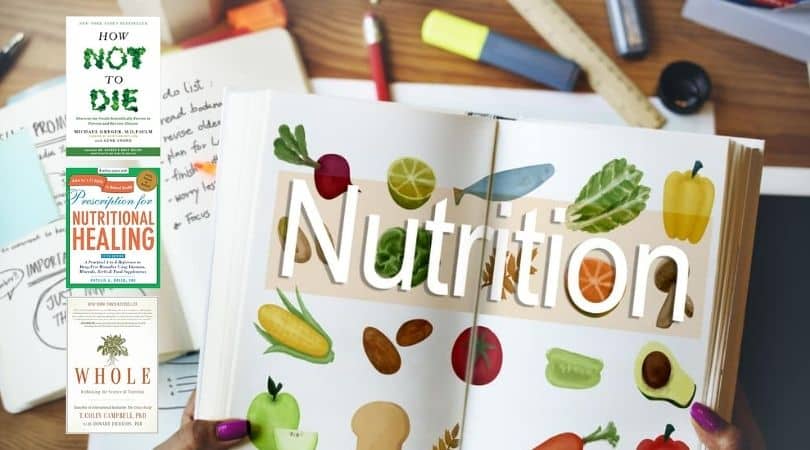 There is an overwhelming amount of information out there about nutrition. The craziest part of all the information is that it's all totally subjective (and some of it is just plain wrong). If you've been eating right and working out, trying this diet and that and going to the gym every day without seeing results, you might need to look deeper into your food choices.
What are the Best Nutrition Books to read?
1

2

3

Book
How Not to Die: Discover the Foods Scientifically Proven to Prevent and Reverse Disease
Prescription for Nutritional Healing, Fifth Edition: A Practical A-to-Z Reference to Drug-Free Remedies Using Vitamins, Minerals, Herbs &...
Whole: Rethinking the Science of Nutrition
1

Book
How Not to Die: Discover the Foods Scientifically Proven to Prevent and Reverse Disease
2

Book
Prescription for Nutritional Healing, Fifth Edition: A Practical A-to-Z Reference to Drug-Free Remedies Using Vitamins, Minerals, Herbs &...
3

Book
Whole: Rethinking the Science of Nutrition
Not all food is made equal. Just because you're eating a vegan diet doesn't mean you're healthy. And just because you're getting a lot of protein doesn't mean you'll build muscle. If you want to know what you need to do to see results but you don't have the time or money for a personal trainer or nutritionist, check out the books below and see if one can't put you on the path to success!
Best Nutrition Books: Our Top 20 Picks
Here are some of the best nutrition books that you can consider to expand your knowledge on the subject:
1. How Not to Die: Discover the Foods Scientifically Proven to Prevent and Reverse Disease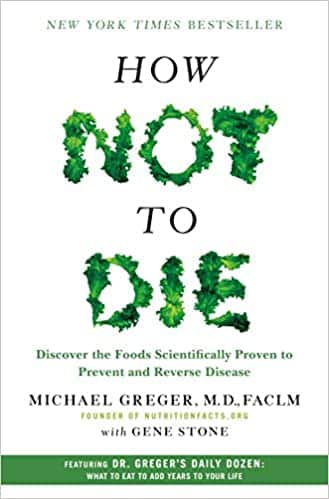 Dr. Michael Greger is known around the world for his work in the field of nutrition. His Holiness the Dalai Lama, himself has read and reviewed this book. Dr. Greger uses food to show you 'how not to die' from things like heart disease, various cancers, diabetes, Parkinson's, high blood pressure – all things that American's especially at high-risk for.
How Not to Die holds us each accountable for our eating habits and health. Even if there is a certain illness that runs in your family, Dr. Greger tells you how you can combat that illness just by making small, conscious changes about what you put in your body.
The key message of this book is to eat more whole, plant-based meals. Get as many raw fruits and veggies into your day as you can. Don't be afraid to have some nuts and seeds. Stop drinking milk and maybe cut down on the coffee and alcohol, too.
Authors: Michael Greger M.D. FACLM (Author), Gene Stone (Author)
Publisher: Flatiron Books; 1st Edition (December 8, 2015)
Pages: 576 pages
2. Prescription for Nutritional Healing, Fifth Edition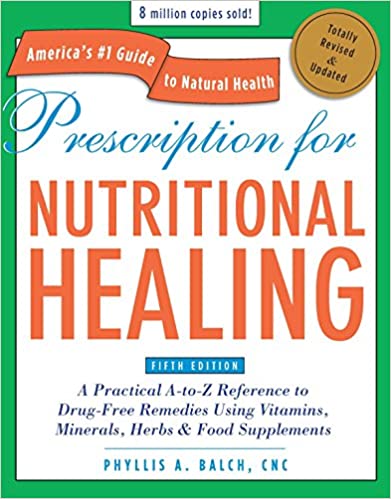 Prescription for Nutritional Healing is just what it sounds like. It is a guidebook to using food as medicine. In a well-organized A-to-Z list, this 904-page book goes from illness to illness, prescribing how to ease or cure the disease with nutrition.
Illnesses and ailments include Alzheimer's, HIV/AIDS, H1N1 virus, prostate cancer, menopause and so much more.
This book is an excellent resource to have in your home, especially when someone is sick. If you are one who wants to learn more about holistic healing, non-traditional medical practices or just want to use food to stay healthy, this will be a great read and essential addition to your collection.
Authors: Phyllis A. Balch CNC (Author)
Publisher: Avery; Revised, Updated Edition (October 5, 2010)
Pages: 904 pages
3. Whole: Rethinking the Science of Nutrition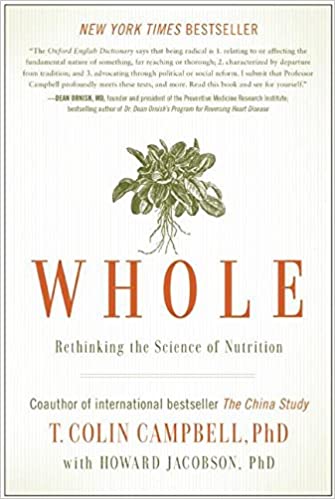 This book balances a scientific approach to nutrition with a philosophical approach. It goes beyond what food technically does to our body by explaining how there are infinite ways that food's chemical makeups can reaction with our infinitely diverse bodies.
Dr. T. Colin Campbell also dives into the industries that produce our food and what impact they have on our choices and overall health. He gives a new perspective on the health industry, too, and how we attempt to heal our bodies with drugs and doctor's orders that might not be nutritionally sound.
This book would be a good read for anyone looking to gain a new perspective on the way they look at food, health and nutrition. Dr. Campbell offers up radical ideas that may be hard for some to digest.
Authors: T. Colin Campbell (Author), Howard Jacobson
Publisher: BenBella Books (May 6, 2014)
Pages: 352 pages
4. Eat to Beat Disease: The New Science of How Your Body Can Heal Itself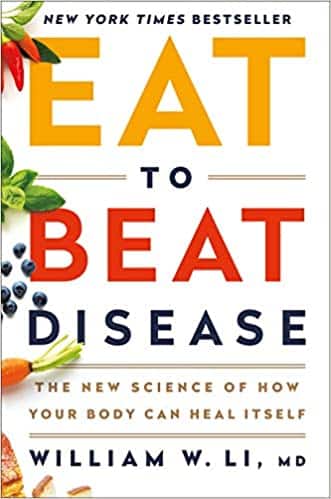 Instead of a book on food to avoid, harmful foods and how we are making ourselves sick with what we eat, this book gets into how we can use food as our number one defense against illness.
Dr Li details how to boost our bodies five systems that help our bodies work at their highest potential: angiogenesis (blood and circulation), (cell) regeneration, microbiome (good bacteria), DNA protection and immunity. Together, these systems help fight things like diabetes, heart disease, Alzheimer's, autoimmune diseases and many other illnesses.
This is a larger book clocking in at 496-pages, but it is divided into three sections to make it more easily digestible. Section one talks about the five body systems of defense. Section two is all about food and the third part is about what you can do to make part one and two work together to benefit your health.
Authors: William W Li MD (Author)
Publisher: Grand Central Publishing; 1st Edition (March 19, 2019)
Pages: 496 pages
5. Deep Nutrition: Why Your Genes Need Traditional Food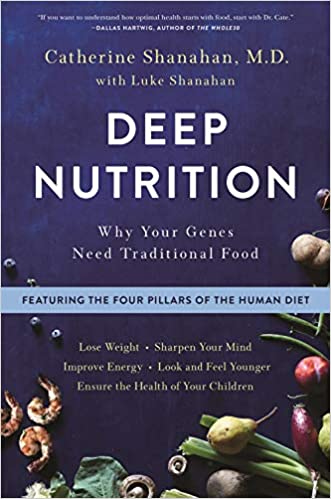 This book takes you back to where it all began. It answers the question, "how have humans survived for so long?" According to this book, food has always been the answer to our problems. Author Catherine Shanahan is a physician and biochemist who has traveled around the world learning about different diets that promote long and healthy lives.
Deep Nutrition goes much further than explaining the technical aspects of nutrition. It focuses more on the properties of food that will help you boost your mood, curb cravings, and even which foods promote fertility and healthy children. Every day, we consume so many messages about food – how are we to know what is true and what isn't? What is good and what is bad? Deep Nutrition goes back years and years to not only tell you what is good but what works.
Authors: Catherine Shanahan M.D. (Author)
Publisher: Flatiron Books; Reprint Edition (May 29, 2018)
Pages: 512 pages
6. Eat, Drink, and Be Healthy: The Harvard Medical School Guide to Healthy Eating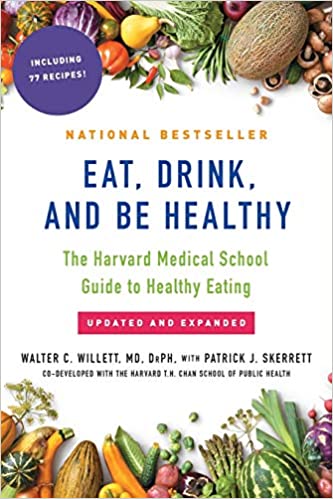 Written by a 25-year chair at the renowned Department of Nutrition at the Harvard T.H. Chan School of Public Health and Professor of Medicine at Harvard Medical School, Eat, Drink and Be Healthy is a reliable source for personal nutrition.
Dr. Willett uses his years of top-notch research to bring a great guide to food to the table. He clearly explains why our bodies react the way that they do to certain foods while using real-world evidence as to how we can fight disease with food.
There are so many diets out there and it seems as they only get more complex every day. But many people get confused when choosing a diet some might choose one that is all wrong for their bodies and end up making themselves sick, weak or see themselves gaining weight.
This book uses information from current medical studies to show you what really works as well as busting some myths along the way.
Authors: Walter Willett M.D. (Author), P.J. Skerrett
Publisher: Free Press; Reprint Edition (September 19, 2017)
Pages: 432 pages
7. Plant-Based Nutrition, 2E (Idiot's Guides)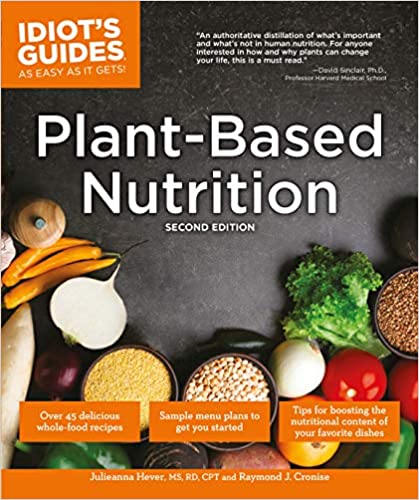 Plant Based Nutrition (Idiot's Guide) is a really great place to start if you want to adopt a vegan diet or if you just want to get more whole foods into your diet. There's a ton of science behind the benefit of whole foods, especially plant-based ones. This book lays it all out for you.
Plant-based diets are proven to ease many different diseases. When you're finished reading this book, you'll have a deeper understanding of how you, too, can heal from food and use it as your medicine.
This book features a new style of food pyramid which will have you rethinking everything that you've been taught since you were a kid, fresh takes on macro nutrients and how to manipulate them for your body, how fad diets can actually lead to weight gain and more.
One of the best aspects of this book is it has a bunch of recipes form celebrity chef's! Not that the celebrity matters but it gives this book that extra "wow" factor you might be looking for.
Authors: Julieanna Hever M.S. R.D. (Author), Raymond J. Cronise (Author), Penn Jillette (Foreword)
Publisher: Alpha; 2nd Edition (January 9, 2018)
Pages: 352 pages
8. Understanding Nutrition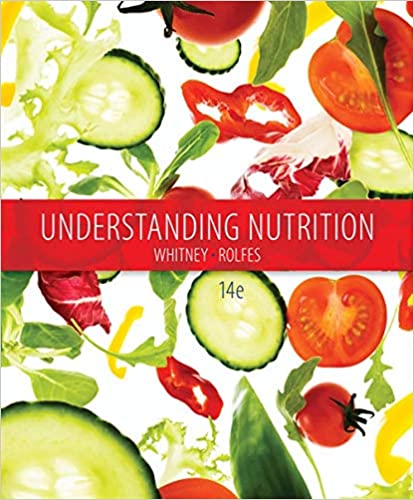 In its 14th edition, Understanding Nutrition contains twenty chapters that touch on topics like as diet planning, macronutrients, vitamins and minerals, diet and health, fitness, life span nutrition, food safety, and world hunger. The 687-page book is written by Dr. Eleanor Noss Whitney, a in a style that is very easy to digest.
This book is really engaging as is contains mini assignments and lots of visual content. Some readers have found, though, that the more technical stuff – like the way our bodies use fats and protiens – were a little harder to understand. While all terms are defined the the books margins, you might want to start with a book that is more geared toward beginners if you're just beginning to understand nutrition.
Authors: Eleanor Noss Whitney (Author), Sharon Rady Rolfes (Author)
Publisher: Cengage Learning; 14th Edition (January 1, 2015)
Pages: 687 pages
9. The Inflammation Spectrum: Find Your Food Triggers and Reset Your System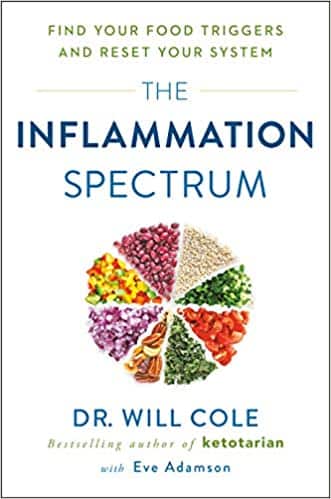 This book is a real eye-opener. Who knew foods that you eat every day could be wreaking such havoc on your body without you ever knowing it? Inflammation can cause everything from mild symptoms like slight weight gain or rashes to sever symptoms like auto-immune diseases and hormone imbalances.
The Inflammation Spectrum details which foods are best and worse for your bodies, especially if you're prone to inflammation. It's a great place to start if you've been feeling icky, especially in the stomach area, or if you've been noticing some skin irritations that make you uncomfortable.
This book is really interactive with a few quizzes to find out your body type and how it reacts as well as great advice from the authors that empower you to make well-informed decisions so you can eat consciously and be healthier.
Authors: Will Cole (Author), Eve Adamson (Author)
Publisher: Avery; 1st Edition (October 15, 2019)
Pages: 336 pages
10. Nutrition Facts: The Truth About Food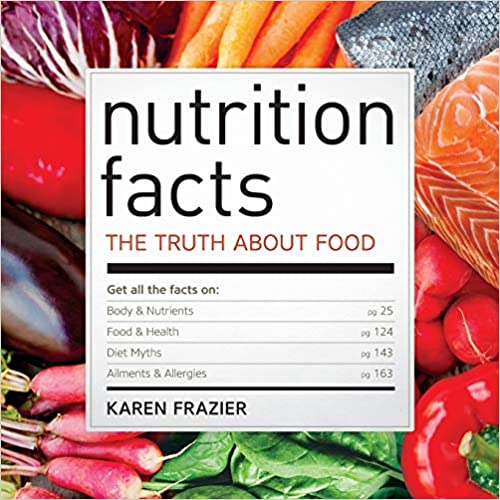 This quick, 232-page book really gets into the nitty gritty of what nutrition is and how it can act as medicine for our bodies. Karen Frazier writes from the point of view of a personal trainer, fitness instructor and nutrition advisor as well as one who is diagnosed with celiac disease, a dairy allergy and Hashimoto thyroiditis.
Frazier uses her professional knowledge and personal experiences to gather a book that will kick start your own journey. Topics she covers include the link between nutrition and health, how our bodies process food, the truth about diets, the value of nutrients, healthy eating habits and how to use food as medicine.
Authors: Karen Frazier (Author)
Publisher: Rockridge Press (August 12, 2015)
Pages: 232 pages
11. Strength Training Nutrition 101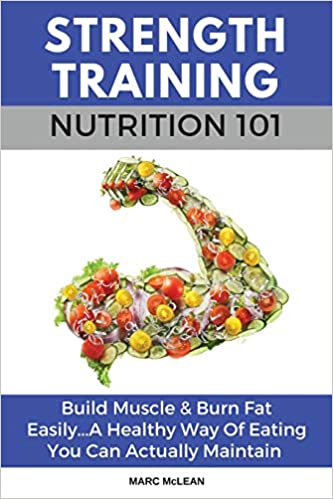 This is a cut and dry book on how to eat well for your body to lose weight and/or build muscle. Every body is different and what gets one person ripped might make another person gain weight. Author McLean explicitly tells readers what and how to eat.
This is a great book if you're just starting out on your muscle building journey and you don't know where to turn for advice and guidance. McLean writes in a simple style that gets to the point without adding a bunch of "fluff."
Many people don't know where to begin with their fitness journey as well as feel lost when on it. Keeping this book by your side and using it as a reference will help you bulk up and gain that mass that you're looking for.
Authors: Marc McLean (Author)
Publisher: CreateSpace Independent Publishing Platform; 1st Edition (April 30, 2017)
Pages: 150 pages
12. Nutrition For Dummies, 6th Edition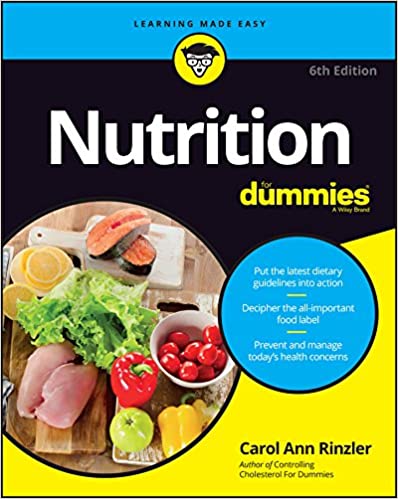 A classic beginner's book, Nutrition for Dummies in its 6th edition will help you figure out what diet is best for your body type. While there is no one-size-fits-all nutrition plan, this book is suitable for any and all who want to know more about what food can do for our health.
Nutrition for Dummies will help you build a healthy shopping list fit for your lifestyle, decipher the nutrition facts labels and give you the down-low on sugar, vitamin supplements and energy drinks so you can make the best choices for yourself and your body.
Readers love this book because it goes so in-depth about food and why it is so important to get as many plant-based foods in your diet as possible. However, the author does suggest putting processed foods on your shopping list which may not be so helpful for everyone.
Authors: Carol Ann Rinzler (Author)
Publisher: For Dummies; 6th Edition (April 15, 2016)
Pages: 432 pages
13. Nutrition: Concepts and Controversies – Standalone book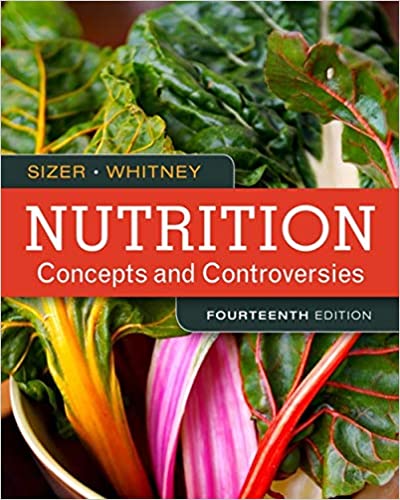 This book on nutrition is a textbook by Eleanor Noss Whitney, a Doctor of Biology and Frances Sizer, a Master of Nutrition. Together, they created a textbook for students of nutrition that is engaging, easy to understand and totally comprehensive.
When supplemented with a good class on nutrition, this book will teach you all you need to know to better your own life or help others make better lifestyle choices, if that's where you career is headed.
The way that this book presents controversies on food is interesting. It's a good opportunity for students to draw their own well-educated conclusions about food while seeing the proof on what works and what doesn't.
Authors: Frances Sizer (Author), Ellie Whitney (Author)
Publisher: Cengage Learning; 14th Edition (February 26, 2016)
Pages: 896 pages
14. Nutrition: An Applied Approach (5th Edition)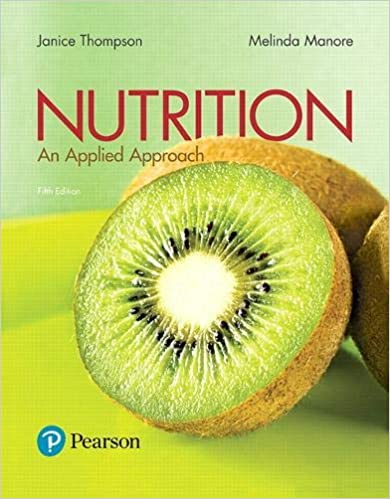 This book was written for students of nutrition. The textbook breaks down food all the way to enzymes and electrolytes and teaches readers how everything functions together to either hurt or help our bodies.
Nutrition: An Applied Approach is great even for non-students if one wants to dive deep into how our inner systems react to what we feed them. To ensure maximum retention, if that's something that you're concerned with, this book has quizzes and exercises throughout each chapter.
There is even an extension package called Mastering Nutrition if you would like to take guided approach to reading this book.
Authors: Janice J. Thompson (Author), Melinda Manore (Author)
Publisher: Pearson; 5th Edition (January 15, 2017)
Pages: 720 pages
15. Academy of Nutrition and Dietetics Complete Food and Nutrition Guide, 5th Ed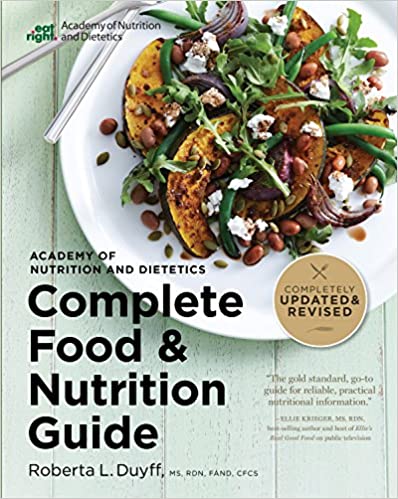 This book is massive at 816-pages and 26 chapters, but it contains a lot of useful information. It provides a guide for building and customizing your own diet without telling you to "eat this" or "stay away from that."
Academy of Nutrition and Dietetics Complete Food and Nutrition Guide is suitable for people of all ages who are looking to start or continue their journey of healthy living. However, the methods are pretty traditional. Although the book is in its 5th edition, published in 2017, there is no information on intermittent fasting or on the keto diet.
Still, it is a good reference if you're just looking for a little extra knowledge that you can use to find a diet that works for your body. It doesn't to all of the work for you and it's isn't pushy. But it will tell you what you need to know.
Authors: Roberta Larson Duyff (Author)
Publisher: Houghton Mifflin Harcourt; 5th Revised & Updated ed. Edition (April 18, 2017)
Pages: 816 pages
16. The Essential Pocket Guide for Clinical Nutrition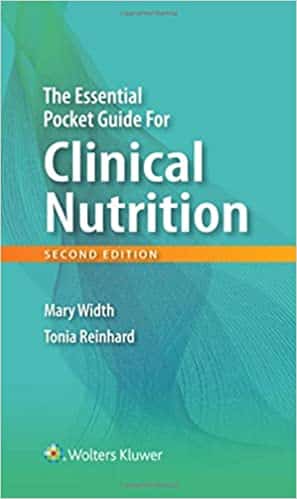 This is a cut-and-dry book on nutrition that is perfect for doctors, nurses, teachers and students. It's a nice little pocked-sized book that you can carry in you scrubs pocket or purse so you can refer to it quickly.
This book is definitely designed for medical use as it outlines the complications that nutrients can have with certain diseases or surgeries so you may make informed decisions about your patient or yourself.
Most would say that this book is best suited for students and interns as it helps with filling out paperwork and charts. If you've forgotten a technical term, it can easily be found within this pocket guide.
Some may find, though, that is it not as quick and easy to reference terms as they would like nor are the terms summarized enough. This book is intended to be almost like a cheat-sheet rather than a fully educational textbook.
Authors: Mary Width (Author)
Publisher: Jones & Bartlett Learning; 2nd Edition (January 31, 2017)
Pages: 576 pages
17. Integrative Nutrition: A Whole-Life Approach to Health and Happiness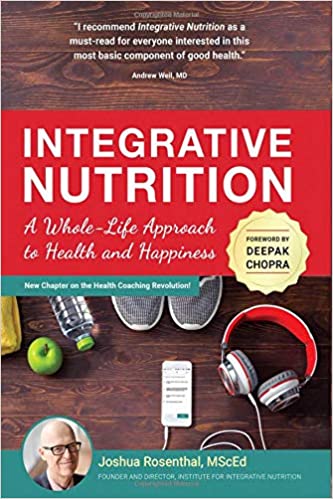 This is a full-on guide to how to eat for your body. Have you tried many diets that either left you the same or worse than you started> Or were they too complicated and intimidating to begin? This book will help you create your own diet that WILL work.
It also goes in-depth to things that surround the industry of food like major corporations (food, medical, etc.), what is good and bad about certain fad diets, the connection between food and The Self, how to cook at home and stop depending on processed foods, and more.
Integrative Nutrition is a real-world take on food and dieting that will help you implement strategies and habits into your own life that actually work! It's an exciting read that will have you rethinking everything from the food you eat to your sex life.
Authors: Joshua Rosenthal MScEd (Author)
Publisher: Integrative Nutrition LLC; Fourth Edition, Fourth edition, Complete information and editorial update (April 13, 2018)
Pages: 384 pages
18. Plant-Based Sports Nutrition: Expert fueling strategies for training, recovery, and performance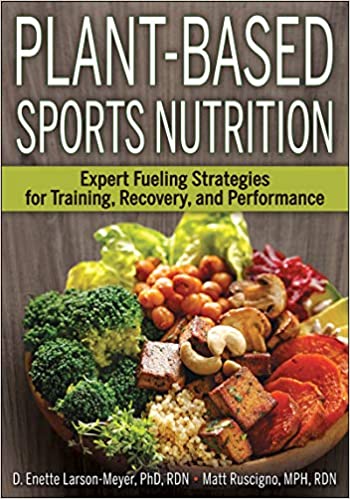 Have you ever thought that you can't be vegan because you work out too much our play a sport that requires lots of energy and a high protein intake? Well this book will make you think again!  There are thousands of runners, pro athletes, bodybuilders and trainers that swear by a whole food, plant-based diet. This book will show you what it's all about.
It's totally possible to get the nutrients that you need to maximize your potential – all from plants.  You can absolutely build tons of muscle mass with protein found in nuts, seeds, soy products and more foods that you probably never thought about!
Even if you want to start counting macros to get your ideal physical appearance, this book will show you how to do that. Now only that, but it will outline exactly which plant-based foods are best for you to eat so you can reach your goal!
Authors: D. Enette Larson-Meyer (Author), Matt Ruscigno (Author)
Publisher: Human Kinetics, Inc.; First Edition (June 28, 2019)
Pages: 344 pages
19. Advanced Nutrition and Human Metabolism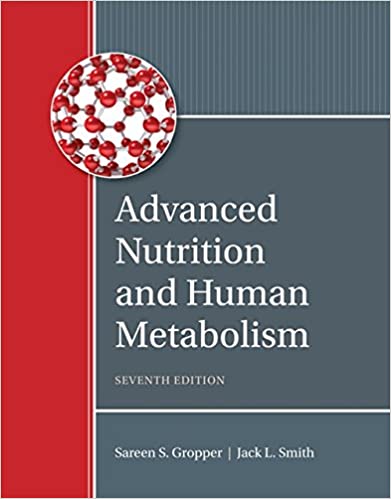 This textbook is appropriate for students going into the health, nutrition, or physical therapy fields. The writing shifts away from food and more toward detailing what happens inside the body when food is put into it.
This textbook also breaks down foods into their simplest properties: chemicals, vitamins, minerals, proteins, carbs, fats, etc. and explains, in simple language, how each one affects our bodies and what we need them for (or don't!). There are toxicity levels to things that are found in our foods. This textbook guides students and readers through what out body needs, wants and can handle.
In addition to technical education, Advanced Nutrition and Human Metabolism provides daily recommended values for all types of bodies, weights and different genders. Everything is this book is 100% backed by science. There is nothing in this textbook that related to fads, dieting or philosophy.
Authors: Sareen S. Gropper (Author), Jack L. Smith (Author), Timothy P. Carr (Author)
Publisher: Cengage Learning; 7th Edition (January 1, 2017)
Pages: 640 pages
20. Essential Sports Nutrition: A Guide to Optimal Performance for Every Active Person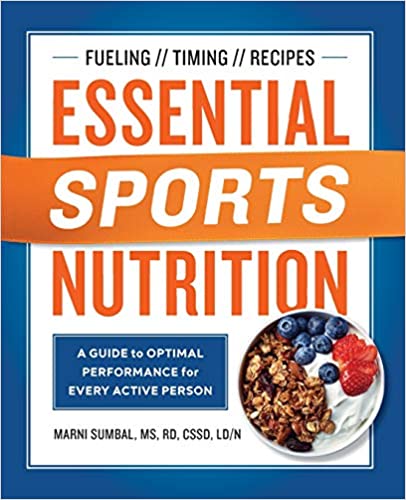 You might think that it's enough to work out or be physically active every day (or most days) but if you aren't eating the right foods to get the proper nutrients, you might as well stay at home!
Knowing which foods help to repair muscles, hydrate you from the inside out and give you the proper energy that is needed for a great workout is so important. If you eat the right nutrients, you can run longer, build more muscle and even have a shorter recovery time between workout.
This book tells you exactly what you should be putting in your body before, during and after an exercise routine. You'll be on your way to maximum performance and results once you have this book to guide you.
Authors: Marni Sumbal MS RD CSSD (Author)
Publisher: Rockridge Press (October 23, 2018)
Pages: 192 pages
Choosing the Best Nutrition Books
Now that you have a very comprehensive list of books on nutrition, you can start your journey! If you've already started, that's great. You have even more knowledge so that maybe one day, you can help someone else that was struggling once, just like you.