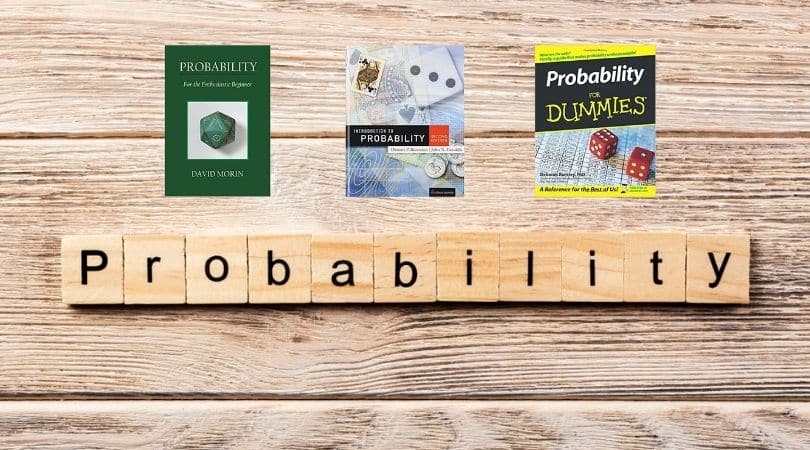 DISCLOSURE: This post may contain affiliate links, meaning when you click the links and make a purchase, I receive a commission. As an Amazon Associate I earn from qualifying purchases.
Mastering the concept of probability can help you see the world in entirely new ways. At its core, probability represents the chance for likelihood of an event occurring. Individuals that study probability often look into the various ways that an event could result in an achievement or success.
Some early probability problems that many people study looked towards the probability of flipping coins heads or tails. Expressing the fractions or percentage of a particular outcome in probability can often require some mathematics work. As you begin to understand probability more, you can begin to apply probability to a number of scenarios in your life such as with games, with events as they occur and more.
What are the Best Probability Books to read?
1

2

3

Book
Probability: For the Enthusiastic Beginner
Introduction To Probability
1

Book
Probability: For the Enthusiastic Beginner
2

Book
Introduction To Probability
3

Probability and advanced mathematics can be a fantastic method that you can use for examining the world around you. If you are interested in learning more about probability and how you can apply it to your own world, there are a number of excellent books where you can learn these theories. Here are some of the 20 best books on probability that you can pick up:
Best Probability Books: Our Top 20 Picks
Here are some of the best probability books that you can consider to expand your knowledge on the subject:
1. Probability: For the Enthusiastic Beginner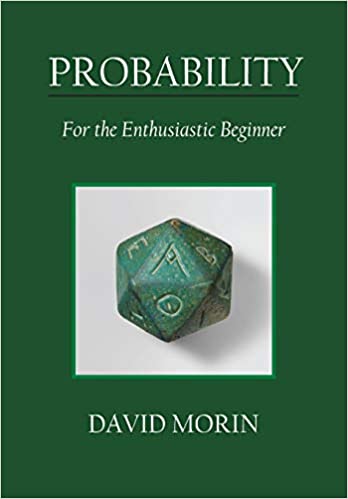 Probability for enthusiastic beginners is a book from David Morin. The book design has been created for high school and college students that are interested in picking up probability theory for the first time. The book appeals to a number of readers who are interested in learning about the results of probability and how probability can be applied to a large number of situations. There are a series of subjects covered including the rules of probability, expectation value, variance, probability density, and more. The nice part about this book is that it truly is designed for beginners and you don't need to have a background in calculus in order to understand the content.
The book also includes over 150 problems which have all been solved for examples. The main text serves as an excellent supplement and the real world examples can give you plenty of inspiration for discovering probability in your own world.
Authors: David J. Morin (Author)
Publisher: CreateSpace Independent Publishing Platform; 1st Edition (April 3, 2016)
Pages: 371 pages
2. Introduction to Probability, 2nd Edition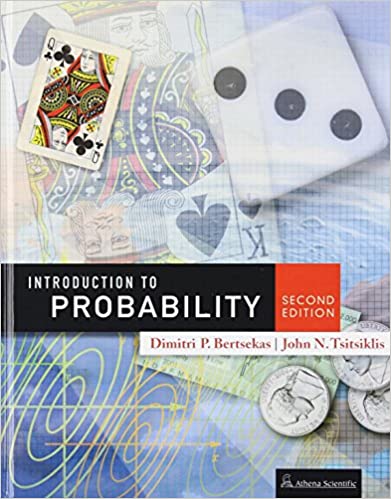 Probability 2nd edition is a precise book that stands as an introduction to probability theory. Including a series of probabilistic models and relations in probability to engineering, economics and science, there is a wealth of knowledge to acquire in this book.
The book was authored by John N tsitsiklis as well as Dimitri P. Bertsekas. It includes a wealth of material since the first edition. The original edition of probability only contained around 70 to 75% of the content that can be found in this book. With a whole other chapter on classical statistics and new revisions to meet real world problems, this is an excellent starting point as staple textbook for many students entering into probability classes.
Authors: Dimitri P. Bertsekas (Author), John N. Tsitsiklis (Author)
Publisher: Athena Scientific; 2nd Edition (July 15, 2008)
Pages: 544 pages
3. Probability For Dummies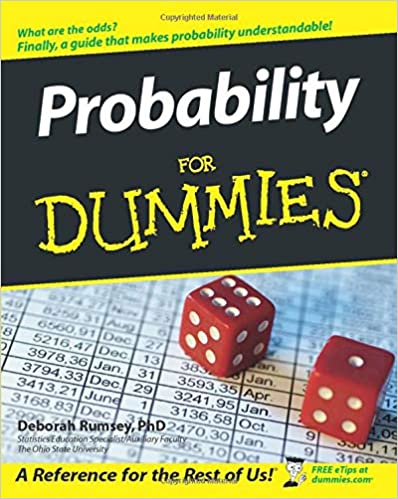 The dummies series of books are an excellent way to pick up the basics of any subject. Probability for dummies is a guide that makes probability understandable for people of all levels and backgrounds. Authored by Deborah Rumsey who is a PHD, this book is packed with a series of probability problems as well as practical tips that can help you to do everything from beat a casino to understand your chances of passing an important test.
This is a book that can truly help you to even the odds in your life. Understanding the basics of probability and how you can apply it to equations in your lifestyle all start with the teachings in this guide for beginners. The overall goal of this series is to demystify probability and to boost the chances of success for anyone hoping to master probability. There are relationships in this book that applied to common casino games like poker and roulette as well as applying probability decision-making, permutations, combinations and more.
Authors: Deborah J. Rumsey (Author)
Publisher: For Dummies; 1st Edition (April 3, 2006)
Pages: 384 pages
4. Introduction to Probability, Statistics, and Random Processes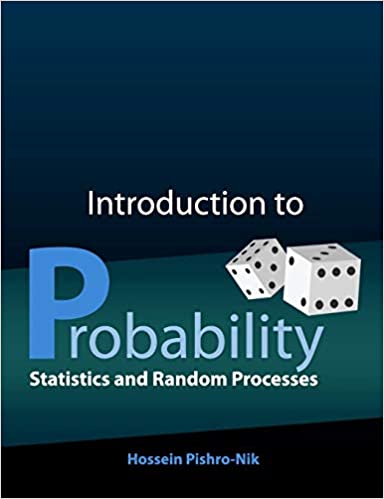 The introduction to probability includes statistics of many of the problems within our world. Produced by Hossein Pishro-Nik, this is a book that is bound to have suitable use for students in engineering, finance and various sciences.
The book includes a number of subjects including conditional probability, counting methods and a series of random experiments. With the application of multiple random variables as well as single variables, this is an excellent breakdown that could be used for forming your own equations. Like many of the other books on this list, this is a book that also contains a series of solved problems. The overall goal is to improve the flexibility of the equation so that they can be quickly optimized by professors or by students to apply to their own probability. The book can have some excellent applications for students that are in engineering, finance or a wealth of other disciplines. With the level of flexibility involved there are plenty of examples of applications and instruction to guide future learning.
Authors: Hossein Pishro-Nik (Author)
Publisher: Kappa Research, LLC (August 24, 2014)
Pages: 744 pages
5. Probability Theory: A Concise Course (Dover Books on Mathematics)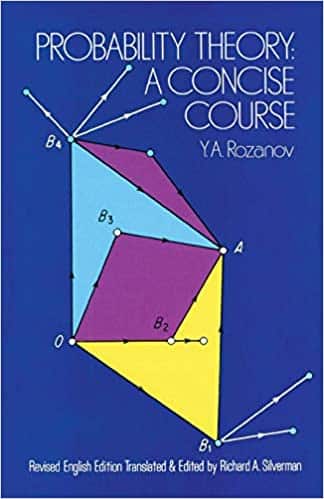 The probability theory concise course by Y. A. Rozanov is a book on mathematics that contains concise information on modern probability theory. There is a series of indispensable applications for mathematics and science in this book. Created by an internationally renowned mathematician, the processes for probability theory in this book utilize a unique style and go through a wide selection of topics.
The book is easy-to-read and ideal for students that have some experience in mathematics. Over eight chapters and a number of appendices there are over 150 equations for applying knowledge after the learning outcomes.
Authors: Y.A. Rozanov (Author)
Publisher: Dover Publications; New edition (June 1, 1977)
Pages: 160 pages
6. Probability Theory: The Logic of Science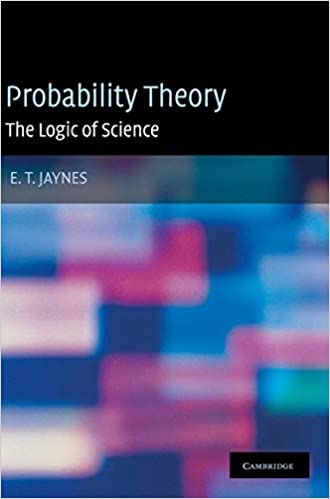 Theory science and probability goes beyond many of the conventional mathematics associated with the theory of probability. This study, produced by ET Jaynes using the applications of probability to explain a series of problems in our modern world.
This book contains a series of exercises that are targeted at a graduate level. Aimed at readers that have a familiarity with applied mathematics and at least an undergraduate level grasp of mathematics, this is a book that can surely help you to fashion equations that could help you gain new inferences from incomplete information. Filling in the blanks with probability can be of interest to anyone in the science community. These are the building blocks to solving some of the most important issues within our world. If you are interested in expanding your current knowledge of probability to a graduate level and working on important areas for shaping the future of our world, this could be the perfect book for you to pick up.
Authors: E. T. Jaynes (Author), G. Larry Bretthorst (Editor)
Publisher: Cambridge University Press; 1st Edition (June 9, 2003)
Pages: 753 pages
7. Probability and Random Processes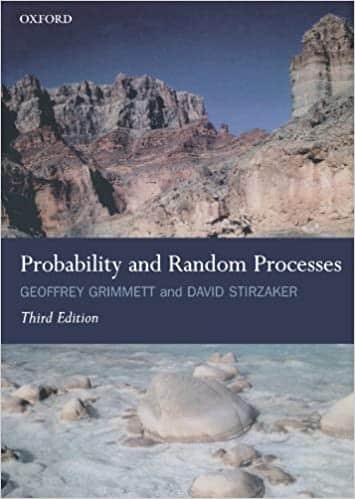 Probability and random processes is a book that is produced by David Stirzaker and Geoffrey Grimmett. Introducing a series of practical applications and a full introduction to probability, this is a book which is designed with an emphasis on modeling.
New introductions including sampling on Markov chains, stochastic calculus and option pricing based off of the Black Scholes Model are all modified within this material to give it perfect applications for financial markets and more. There's over 400 problems and exercises within this book to ensure that it remains relevant for a wide range of probability equations. Solutions can be found towards the back of the book. Many of the problems found within the book are featured in the thousand exercises in probability. If you don't have access to this book, the random processes book can be a streamlined way to access some of the best problems from the larger book of problems.
Authors: Geoffrey R. Grimmett (Author), David R. Stirzaker (Author)
Publisher: Oxford University Press; 3rd Edition (August 2, 2001)
Pages: 608 pages
8. Schaum's Outline of Probability and Statistics, 4th Edition: 897 Solved Problems + 20 Videos (Schaum's Outlines)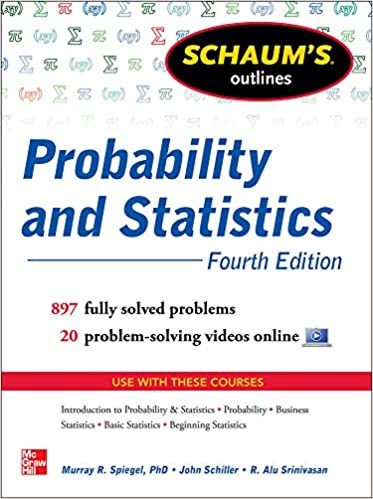 Schaums probability and statistics in the fourth edition includes 897 solved problems as well as a series of links to online videos. This is a conference of guide that works just the same as a college course. Schaums is made to be a all-in-one problem-solving guide with a number of commonly tested problems and a virtual tutor they can take you through the basics of probability to the process of solving early equations.
Authors: John Schiller (Author), R. Alu Srinivasan (Author), Murray Spiegel (Author)
Publisher: McGraw-Hill Education; 4th Edition (December 6, 2012)
Pages: 432 pages
9. Probability (Springer Texts in Statistics)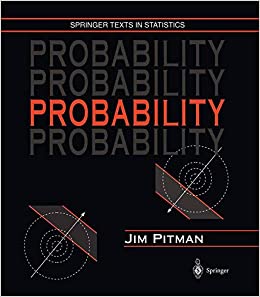 Probability text and stats includes all of the lessons that would be distilled into a corner other one semester course in probability. This is a popular choice by Jim Pitman designed as a textbook with the fundamental concepts of probability covered in the first three chapters.
Users do not have to be reliant on calculus in order to utilize the ideas in this book, there's also a large number of examples presented when the reader understands the basic concepts of probability from earlier chapters. Introducing statistics and applications after the early explainations makes this a book that does not overwhelm beginners and provides an excellent basis of knowledge for future applications.
Authors: Jim Pitman (Author)
Publisher: Springer; Springer Texts in Statistics Edition (May 12, 1993)
Pages: 571 pages
10. First Look At Rigorous Probability Theory, A (2Nd Edition)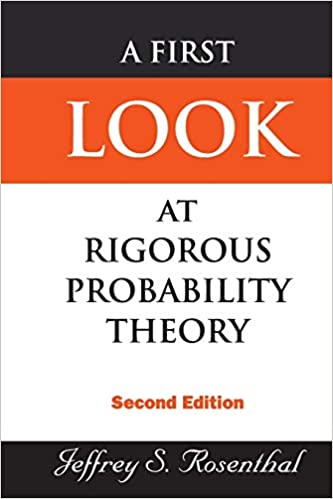 The first look at rigorous probability theory is a second edition book from Jeffrey S. Rosenthal. The textbook is based off of measure and probability theory with a development of a new measure theory that can be applied to economics, computer science and more.
This book was created with an assumed knowledge of graduate or PhD level probability theory. Rigorous probability is a new reconstruction of the Lebesgue measure which can deliver more accurate results. For students that are interested in furthering their knowledge to a graduate level, this is a concise book that offers an extensive amount of knowledge.
Authors: Jeffrey S Rosenthal (Author)
Publisher: WSPC; 2nd ed. Edition (November 14, 2006)
Pages: 236 pages
11. An Introduction to Probability and Inductive Logic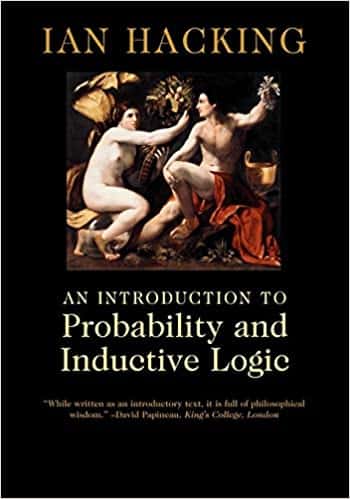 This introductory textbook is produced by Ian Hacking. Unlike some of his other books that focus in on the history of probability and its formation, this is a textbook that is written for accessibility for a wide range of students. Hacking stands as one of the foremost philosophers in the subject of probability.
This novel was designed to be a version of a probability text that could be taught with an assumption of no formal training or elementary knowledge. Introduction to these ideas and working to consider some of these topics in your lifestyle can start a conversation on probability. The purpose of this book is to make sure that it can be read and enjoyed by people of all backgrounds. With sections that are designed to apply to social sciences, engineering, political science and economics, there are a wealth of applications which can be used with these series. As a reader friendly account, this is a book that comes with everything from the basic ideas to how a reader can begin applying probability into their lifestyle.
Authors: Ian Hacking (Author)
Publisher: Cambridge University Press; Illustrated Edition (February 7, 2002)
Pages: 320 pages
12. Probability with Martingales (Cambridge Mathematical Textbooks)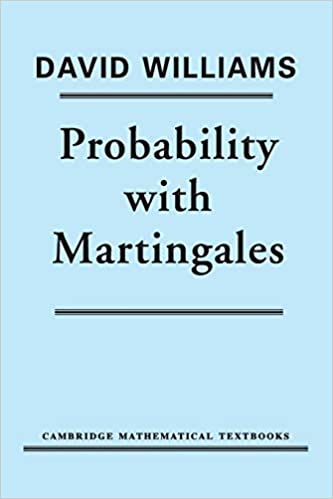 Martingales Cambridge mathematical textbook is produced by Cambridge University and it's an introduction to the rigorous theory of probability in a modern sense. As one of the definitive guides to Matingale theory, the main theme of this book goes through the main foundations of this theory within probability.
Measure theory is also briefly touched upon and there are a series of classical examples. Examples on central limit theorem and martingale techniques are also delivered throughout the chapters. The challenging problems introduced offer real food for thought and a series of exercises can play an extremely vital role in delivering improvements in understanding.
Authors: David Williams (Author)
Publisher: Cambridge University Press; 1st Edition (February 22, 1991)
Pages: 251 pages
13. Probability Concepts in Engineering: Emphasis on Applications to Civil and Environmental Engineering (v. 1)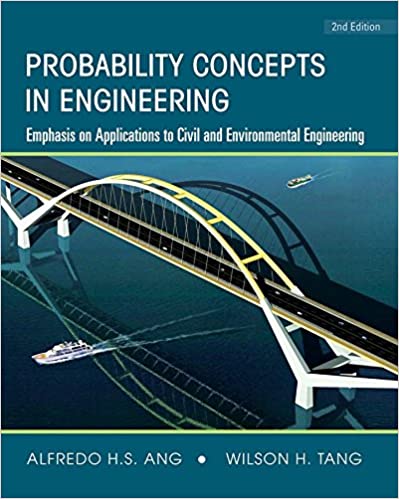 Probability concepts in engineering is a book produced by Alfredo H.S. Ang and Wilson H. Tang. The emphasis in these books is designed to be a tome of statistics and probability targeted at engineering students. The book assumes a knowledge of at least a junior level or sophomore university level study. The books are directed for self-study introducing a number of fundamentals and statistical inferences or equations later on to backup understanding. The goal is to give engineering students access to a series of fundamental problems within probability.
The book in its second edition is well known as an engineering and planning guide for those that are in the field. It has become a required textbook for many engineers for its mathematics theories. Studying this book can help you through a wide range of physical engineering statistics equations. Each principle is presented with a series of illustrations and equations that can improve your working knowledge of these abstract principles.
Authors: Alfredo H-S. Ang (Author), Wilson H. Tang (Author)
Publisher: Wiley; 2nd Edition (March 3, 2006)
Pages: 432 pages
14. High-Dimensional Probability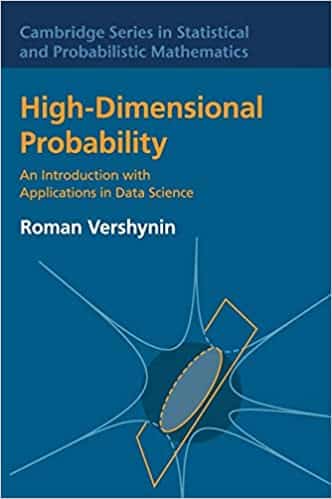 High dimensional probability offers insight into random behaviour and the randomness within probability. With a focus into random matrices, subspaces, vectors and more we can gain a better understanding of higher dimension probability. Based off of the basic ideas of probability and analysis, this Roman Vershynin book goes further into explaining randomness in classical results.
From covering inequalities with the core of probability and re-examining classic results using new applications in mathematics, we can gather more accurate results in any type of high dimensional probability through this book.
Authors: Roman Vershynin (Author)
Publisher: Cambridge University Press; 1st Edition (September 27, 2018)
Pages: 296 pages
15. Introduction to Probability, Second Edition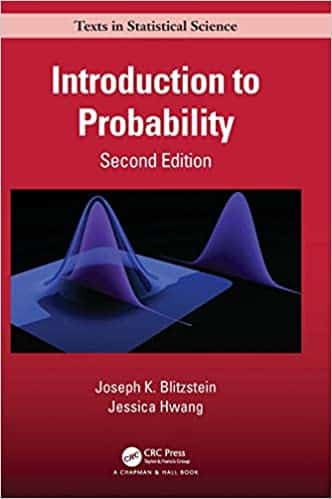 The probability and statistical science was developed from Joseph K Blitstein and Jessica Hwang from a series of celebrated Harvard statistics lectures. The introduction to probability delivers some of the essential language and priming for understanding randomness, statistics and uncertainty.
The book delivers a series of applications that can be used for probability including uncertainty and randomness in the application of probability. What is particularly unique about statistical sciences that this book introduces a series of unexplored areas and probability like computer science, information theory, medicine and genetics. The authors flawlessly present this information in an accessible format with the presentation of a number of real-world examples for the application of probability. What gives this book the advantage is that it offers a story based format for learning probability with manageable chapters and interactive visualizations to match the equations.
Authors: Joseph K. Blitzstein (Author), Jessica Hwang (Author)
Publisher: Chapman and Hall/CRC; 2nd Edition (February 8, 2019)
Pages: 634 pages
16. The Emergence of Probability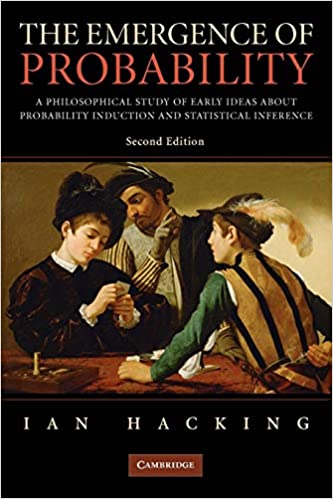 The emergence probability is a second edition book from Ian Hacking. This book goes into detail on some of the historical records regarding the original concept of probability. Understanding the history of probability in its formation goes back to truly understanding the nature of these mathematics. Ian Hacking presents a historical retelling of the early philosophical ideas and the notion of probability. Looking into the creation of statistical inference, the growth of family ideals as well as how probability involved throughout the 17th, 16th and 15th centuries is a wonder. If you've ever wondered more on how probability was applied to early economics, theology and science, this is a book that can give you some older applications for probability and its founding stages.
Even though the first edition was published in the year 1975, the newest addition delivers a series of contextualized improvements that bring to light a series of philosophical trends from our modern world, applying them to their original formations. Books on probability like this allowed Hacking to win the Holberg international Memorial prize back in the year 2009.
Authors: Ian Hacking (Author)
Publisher: Cambridge University Press; 2nd Edition (September 7, 2006)
Pages: 244 pages
17. Lectures on Probability Theory and Mathematical Statistics – 3rd Edition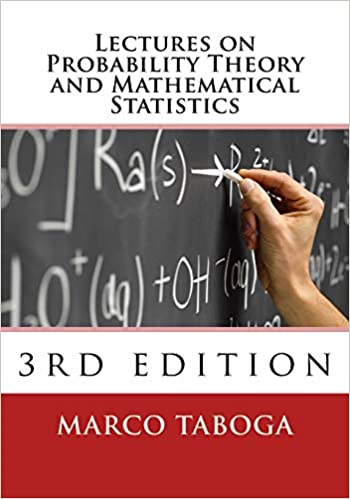 Probability theory Lectures by Macro Tobaga is a collection of lectures that have been put together in a single book on a wide range of topics that are typically covered in mathematical statistics and probability theory. The lectures that have been collected here include hundreds of examples in a self-study guide that can be easy to understand and crucial for developing results and proves.
Part one covers the set theory and mathematical tools as well as reviews how each of these equations can apply to real-world scenarios. Future aspects of the lectures go beyond the basic principles of probability to begin utilizing examples and new application benefits that can be accessed from using probability theory. Written by a financial economist with experience in mathematics, this is a book with plenty of interesting applications for probability from banking, to credit and international finance.
Authors: Marco Taboga (Author)
Publisher: CreateSpace Independent Publishing Platform (December 8, 2017)
Pages: 670 pages
18. Probability and Stochastics (Graduate Texts in Mathematics, Vol. 261)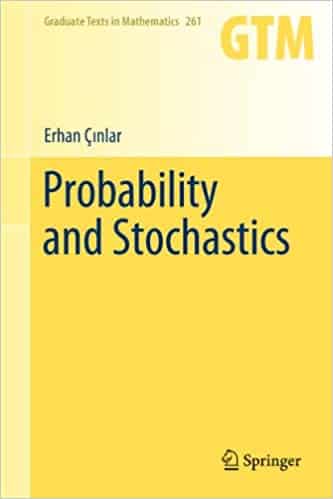 The probability graduate texts in mathematics was created by Erhan Cinlar. The texts include a series of modern theories and applications on probability as well as theories into stochastics. The coverage is designed to focus on Stochastics which introduces new mathematical forms to probability. The book assumes a beginner's level of knowledge and the language that is utilized in the book ensures that people from many different backgrounds could see a benefit to utilizing these theories. The mathematical form is extremely precise but the formation of knowledge in this book is designed to be easier read.
Authors: Erhan Çınlar (Author)
Publisher: Springer; 1st Edition (February 25, 2011)
Pages: 558 pages
19. Probability Theory: A Comprehensive Course (Universitext)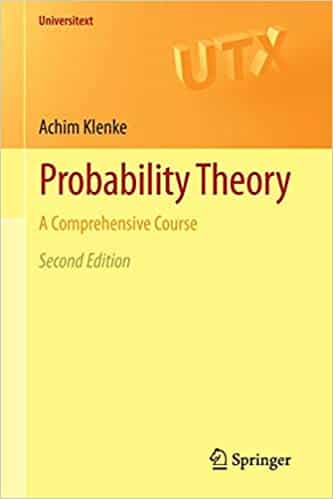 The probability theory in a comprehensive course is a second edition textbook which is popular in many universities. With a series of chapters that cover modern probability theory and a wide range of topics, this is where the perfect books to learn information on sums for random variables, percolation, martingales and more.
Authors: Achim Klenke (Author)
Publisher: Springer; 2nd ed. 2014 Edition (September 17, 2013)
Pages: 650 pages
20. Probability: Theory and Examples (Cambridge Series in Statistical and Probabilistic Mathematics)
The probability of Cambridge probabilistic mathematics is a probability theory that is measure theoretic. This book covers a number of concepts including central limit their rooms, laws of large numbers, martingales, markov chains, ergodic theorms, Brownian motion and more. The concentrated results are extremely useful for a series of applications and the treatments are designed to help individuals to operate within philosophy with a series of unique integrations with concrete modern applications.
This is a fifth edition textbook produced by Rick Durrett. The latest version includes Brownian motion and a series of relationships in partial differential equations. The setting for knowledge and the improvements within this book ensure that it can become easier to manage proofs and offer formulas in mathematics that can be applied to modern ideals.
Authors: Rick Durrett (Author)
Publisher: Cambridge University Press; 5th Edition (May 30, 2019)
Pages: 430 pages
Choosing the Best Probability Books
If you are truly interested in improving your knowledge of statistics and you would like to grab a book that can introduce you to some new concepts in probability, each one of these could be a great pickup. Although some of the books on probability do assume that you have an advanced knowledge of mathematics, there are also some offerings which are targeted at beginners.
Whether you are interested in learning more about the classical formation of probability, the basics of probability or applying probability to some extremely complex and abstract mathematical problems in today's world, there are books that can help you further your knowledge. By picking up a few of these books you may be able to move from a beginner level all the way up to a graduate level in probability and mathematics. All of the books we have covered are designed for a self-study guide and many are popular choices for textbooks in many mathematics programs across the world.
No matter why you would be interested in learning these concepts, keeping each one of these books and mine could give you access to the knowledge that you need to thrive in probability.