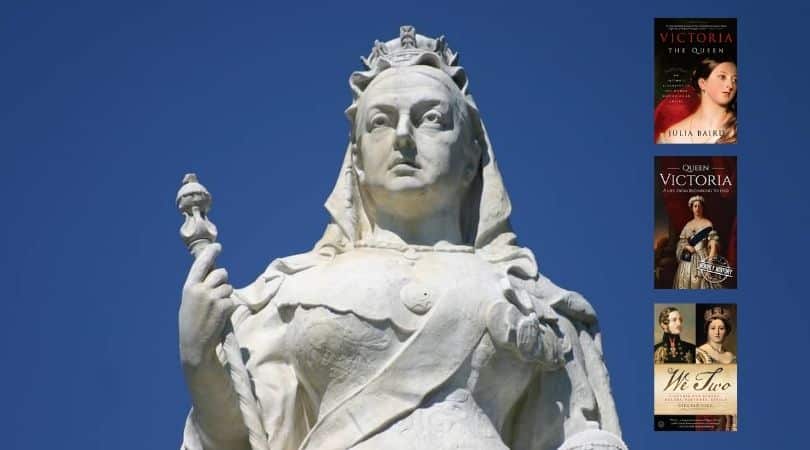 DISCLOSURE: This post may contain affiliate links, meaning when you click the links and make a purchase, I receive a commission. As an Amazon Associate I earn from qualifying purchases.
Alexandria Victoria, also known as Queen Victoria, was the Queen of the United Kingdom and Ireland from 1837 until she died in 1901. She was also known as the Empress of India and is the second British monarch with the longest reign of 63 years with Queen Elizabeth II in the lead of 68 years and present.
Her reign was known as the Victorian era and saw significant industrial advances and cultural expansion. Work into industry, science, and communication took place and brought about a great revolution. During her reign, Britain expanded to Canada, Australia, India, and various colonies of Africa and the South Pacific. She exercised influence on foreign affairs and often expressed her preferences within the limits of constitutional propriety.
What are the Best Books on Queen Victoria to read?
1

2

3

Book
Victoria: The Queen: An Intimate Biography of the Woman Who Ruled an Empire
Queen Victoria: A Life From Beginning to End (Biographies of British Royalty)
We Two: Victoria and Albert: Rulers, Partners, Rivals
1

Book
Victoria: The Queen: An Intimate Biography of the Woman Who Ruled an Empire
2

Book
Queen Victoria: A Life From Beginning to End (Biographies of British Royalty)
3

Book
We Two: Victoria and Albert: Rulers, Partners, Rivals
Queen Victoria continued her duties until her death. She was strict and a profound figure since becoming the Queen at the age of 18. She also popularized the white wedding dress tradition, and she wore black for the rest of her reign ever since her husband passed away to whom she was devoted to immensely.  There are many excellent books written on her personal life as well as her reign; out of which, I have reviewed a few as below:
Best Books on Queen Victoria: Our Top 20 Picks
Here are some of the best books on queen victoria that you can consider to expand your knowledge on the subject:
1. Victoria: The Queen: An Intimate Biography of the Woman Who Ruled an Empire by Julia Baird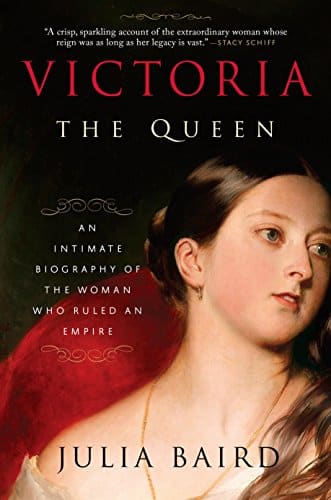 Biography of the life of Queen Victoria. It is well defined and well researched. The global style of this biography is very satisfying. Julia Baird brings us closer to Victoria by first telling us about her history, her life, anecdotes, her reign, and politics with a very well-rounded piece of writing. It focused on not only Queen Victoria herself but also her ancestors, her descendants as well as her husband's family, etc. it was part history, part personal story. It transports the reader into Victorian life, and we are set to imagine the scenes and the tribulations of her life even though most of her journals and letters are heavily censored. It was very well written.
Authors: Julia Baird (Author)
Publisher: Random House (November 22, 2016)
Pages: 670 pages
2. Queen Victoria: A Life from Beginning to End by Hourly History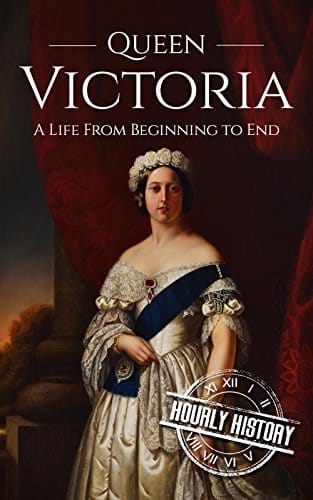 Celebrates the life of Queen Victoria. It is very informative and an easy read. This book portrays her as a unique and strong-willed woman. She didn't care for motherhood and had a complicated relationship with her children. In her life, she suffered much pain and loss, especially when she lost her beloved husband, Prince Albert. She brought about a change in the monarchy and empire, and one can see a lot of steep paths that she had to cross and reading all this in this book makes one wonder about her life and reign, and as intrigued as I was, it sparked me to learn more about her and get to know her. It is a very interesting read and, much like others, delivers what it says.
Authors: Hourly History (Author)
Publisher: CreateSpace Independent Publishing Platform (September 19, 2016)
Pages: 49 pages
3. We Two: Victoria and Albert: Rulers, Partners, Rivals by Gillian Gill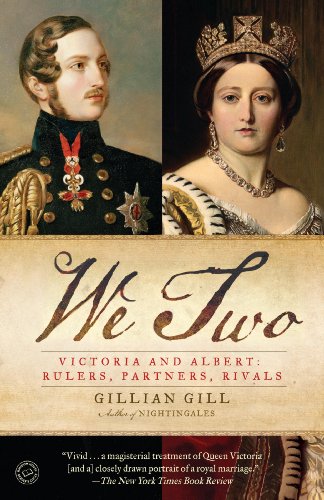 People who say they love Victorian literature, they must be interested in the couple that created their lifestyle that was based on sexual morality, premarital chastity, conjugal fidelity, and hypocrisy. The book is very clear, and history has been made clear. It is presented simply. Although the details of the whole family might become a bit too much, the events leading up to the Crimean War are fascinating and well explained. You look at this couple, and you will understand what they were all about and what the Victorian Era means. The title aptly covers what it says and speaks of their relationship, rivals, partners, and rulers.
Authors: Gillian Gill (Author)
Publisher: Ballantine Books (May 14, 2009)
Pages: 616 pages
4. Queen Victoria's Granddaughters 1860-1918 by Christina Croft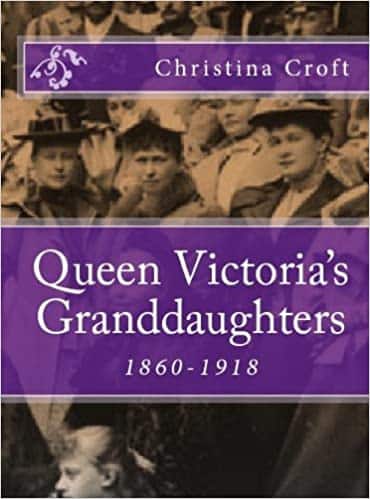 Covers a great variety of royals amongst Queen Victoria's granddaughters. It is not in-depth as it would have been in the singular biographies, but it still provides a well-defined information structure to the readers. The author offers a list of names of the figures to be discussed and a brief note on each of them at the beginning of each chapter hence making it much easier to track the European royalty and how they were connected. This audiobook is a well-planned and well-thought-out book that gives a unique and different detail every time.
Authors: Christina Croft (Author)
Publisher: CreateSpace Independent Publishing Platform (October 28, 2013)
Pages: 423 pages
5. Victoria: A Life by A. N. Wilson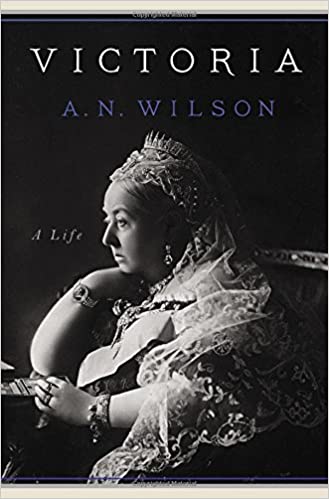 An interesting and exhaustive biography of Queen Victoria. The author has a good sense of humor, and his humorous references are delightful especially when he relates the history to the modern world. It is extensively researched and noted, and there are excerpts from her journals and letters. He doesn't hide her imperfections nor her many faults.  It is a 600-page book filled with British and European politics, this book could seem overwhelming, but if you want to get immersed in Victoria's life, you will love this book. It acts as an ideal detailed biography, and you cannot go wrong in reading this. It is very easy to read and easy on the pocket.
Authors: A. N. Wilson (Author)
Publisher: Penguin Press; First Edition (October 23, 2014)
Pages: 656 pages
6. Victoria & Albert: A Royal Love Affair by Daisy Goodwin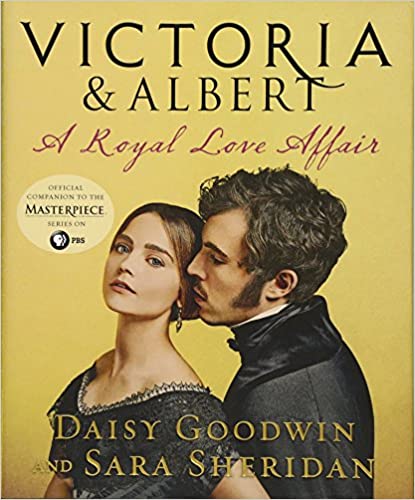 Focuses on the relationship between Queen Victoria and Prince Albert. It acts as a companion book to the PBS television series. It is covered tremendously, and their relationship is described as no less than a fairy tale and how their love for each other and how they were perceived by the nation. The final part of this book reflects how she felt about her constant pregnancies and her children to her clothing and food and the entire culture that made the Victorian Era so unique from the others. Some gorgeous pictures and illustrations made this edition are stunning, and the content is so well written that you get an exposure to the real royals. It is very informative and value for its money. Daisy Goodwin did an amazing job of bringing these two together in her book. Definitely worth the read.
Authors: Daisy Goodwin (Author), Sara Sheridan (Author)
Publisher: St. Martin's Press (November 21, 2017)
Pages: 304 pages
7. Serving Victoria: Life in the Royal Household by Kate Hubbard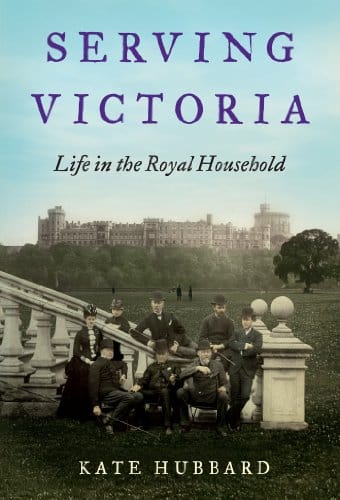 To a certain degree, Queen Victoria's reign cannot be compared to any other monarch in British history. She utterly defined her age and not as a label, but definitely as a symbol, an institution, and an enduring pillar of the British Empire. This recollection gives an insight into her court and household staff – people who were close to her in her everyday life. It follows the lives of six members of her household, from governess to the royal children and her maid-of-honor to her chaplain and personal physician and draws their letters and diaries. This book offers an insight into the happenings of the court with all its frustrations and absurdities with the Queen sitting at the center.  It is an interesting read for all the curious readers who love to see things from a different perspective.
Authors: Kate Hubbard (Author)
Publisher: Harper; Reprint Edition (April 30, 2013)
Pages: 451 pages
8. Queen Victoria: Twenty-Four Days That Changed Her Life by Lucy Worsley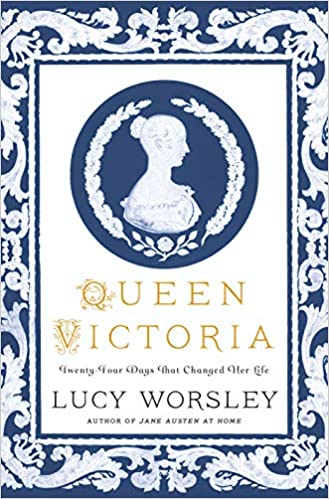 Concentrates on twenty-four days in Victoria's life through which the readers come to understand her family background and relationships and her immense love for her husband Albert, who stood by her throughout his life. The author wanted to make the Queen more human in the eyes of the reader and bring her out of her famous image of being a dour recluse widow with the thirst for power, wine, and dancing. She draws all the information from Victoria's diaries and journals and presents us with a version of the woman who is more human, complicated, and compassionate at the same time and someone we can and more and dislike at once. This biography is a work of art, and one must give it a read.
Authors: Lucy Worsley (Author)
Publisher: St. Martin's Press; Illustrated Edition (January 8, 2019)
Pages: 432 pages
9. Becoming Queen Victoria: The Unexpected Rise of Britain's Greatest Monarch by Kate Williams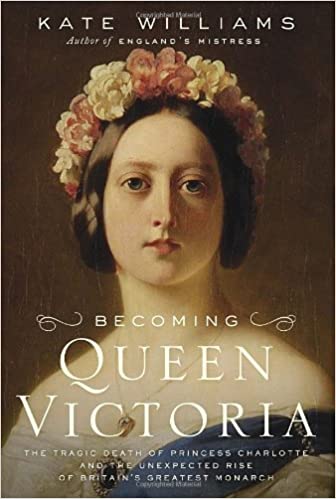 Two-part book devoted to first to Queen Victoria and her lesser-known cousin Charlotte, daughter of George IV, who was heir-presumptive during her short life. This book contrasts the two scenarios and compares how the world would have been talking about the Charlottian age rather than Victorian. Victoria would have been a footnote in history if Charlotte had lived long enough to be Queen. It is a dual biography, and it helps understand the vital point in British history – the transition between the reign of Hanoverians and the German Princes to the new age of the Victorian era. It a well-worded biography and a recollection of history that one must-read.
Authors: Kate Williams (Author)
Publisher: Ballantine Books; 1st Edition (August 10, 2010)
Pages: 464 pages
10. Queen Victoria's Children by John Van der Kiste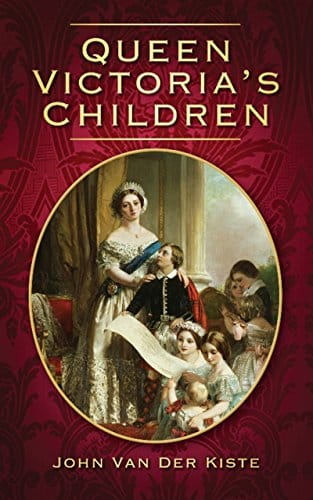 Focus more on Queen Victoria's heirs and their relationship with her. It is in the form of an audiobook, and it contains apt information about all of them. It gives us a different perspective on their lives. One can understand them to a new level and can empathize to their situation of how some of them were quite unhappy with their lives and marriages and the constant sibling rivalry and quarreling who put the needs of various countries before family and their sibling bonds and how much each of them had to sacrifice in their way, and John Van der Kiste does an excellent job at delivering this information in a light and interesting way while keeping all the listeners involved.
Authors: John Van der Kiste (Author)
Publisher: The History Press (June 1, 2010)
Pages: 239 pages
11. Victoria: The Heart and Mind of a Young Queen by Helen Rappaport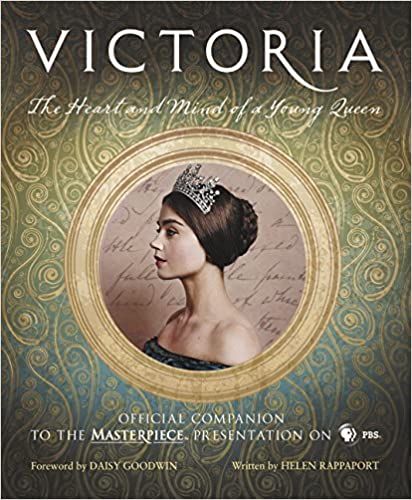 Based on the masterpiece series Victoria that currently airs on PBS and is served as a companion book to the original series. The author plunges into the Queen's writings and gives evidence of scholarly insight. Throughout the book, there are quotes from the Queen's diaries and journals, along with letters to her family and confidants. It also contains family trees and pictures, and one is compelled to watch the series and lookup relatable information online of the details of the events that took place. This book is a unique resource designed to cater to the questions that one must have after watching the series.
Authors: Helen Rappaport (Author), Daisy Goodwin (Foreword)
Publisher: Harper Design; Illustrated Edition (January 31, 2017)
Pages: 304 pages
12. Queen Victoria's Matchmaking: The Royal Marriages that Shaped Europe by Deborah Cadbury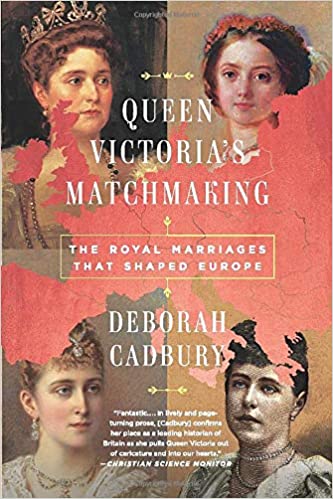 Prince Albert and Queen Victoria saw dynastic marriages between their children and European royalty to avoid wars and create a balance in powers along with spreading British values across the continent. After her husband's death, she had a vision that needed to come true through her forty-two grandchildren. Deborah Cadbury writes this book, which provokes the readers to look at Queen Victoria's desire to be involved in matchmaking marriage for her grandchildren, who were elevated to the throne at a critical time in Europe's history. The author does include many snippets from personal letters of the Queen, thus making this book a fascinating read for the audience.
Authors: Deborah Cadbury (Author)
Publisher: PublicAffairs; Illustrated Edition (April 16, 2019)
Pages: 416 pages
13. Queen Victoria: A Personal History by Christopher Hibbert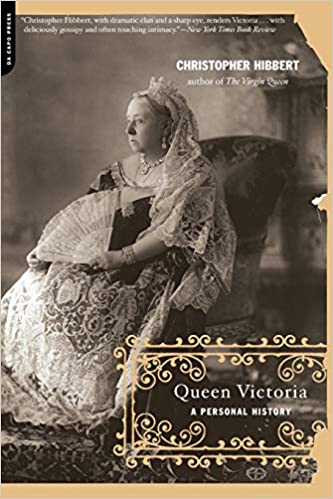 Christopher Hibbert paints a fresh and intimate portrait of Queen Victoria, who not only shaped the country but also revolutionized an era. This book is a fascinating and enjoyable biography of the Queen. Well-accounted and thoroughly researched, this book gives an exciting picture to the powerful woman of an empire. The insights into the contradictions of the Queen's attitude and her voice against women's suffrage are quite commendable, and the inclusion of her journal pages made her seem more accessible as a person rather than a historical figure. This biography is well structured and constructed and is in a standard format that depicts her life from cradle to her grave.
Authors: Christopher Hibbert (Author)
Publisher: Da Capo Press; Illustrated Edition (November 1, 2001)
Pages: 608 pages
14. Victoria Victorious: The Story of Queen Victoria by Jean Plaidy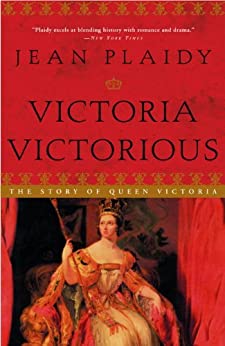 Long fictional biography of Queen Victoria, which explains her unhappy childhood and her marriage with Prince Albert, who was someone she loved dearly, and they had nine children together who all lived. It is an interesting read about Queen Victoria and how Great Britain came about in over 300 years. It is written and dramatized in the first-person point of view that is Queen Victoria. It is a comprehensive and very informative read that will give you comfort. It follows from her birth to her death. Very enjoyable and value for money.
Authors: Jean Plaidy (Author)
Publisher: Broadway Books (February 19, 2009)
Pages: 578 pages
15. Who was Queen Victoria? By Jim Gigliotti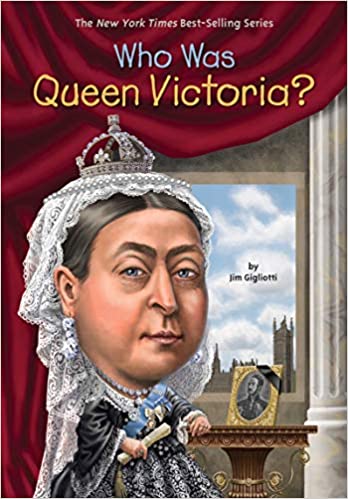 Book specifically written for children with amazing fun facts for kids who want to know who Queen Victoria was. It is perfect for elementary school students who would be interested in reading about a featured person. This biography covers her life as a child and how she would be sad and happy and grew up with much scrutiny. Facts like Queen Victoria introducing the white wedding gown and her husband, Prince Albert, introducing the Christmas tree are highlighted in this book. It is excellent for kids and for adults too who are looking for something light and easy to read.
Authors: Jim Gigliotti (Author), Who HQ (Author), Max Hergenrother (Illustrator)
Publisher: Penguin Workshop; DGS Edition (July 10, 2014)
Pages: 112 pages
16. Queen Victoria's Little Wars by Byron Farwell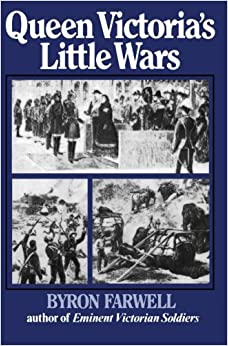 Another terrific book by one of the great historians of the British experience. It contains the reign of Queen Victoria and the "little wars" that were continually prevailing over 60 years. Some were direct, while others were small skirmishes that are mostly forgotten over the years. It sheds light on the uprisings, revolts, and wars that happened across the empire. The author provides new and fascinating biographical sketches of the leading military leaders and those armies which showed bravery and foolhardiness. This book is an excellent synopsis of the many colonial wars fought under the reign of Queen Victoria.
Authors: Byron Farwell (Author)
Publisher: W. W. Norton & Company; Reprint Edition (June 17, 1985)
Pages: 432 pages
17. Victoria: Portrait of a Queen by Catherine Reef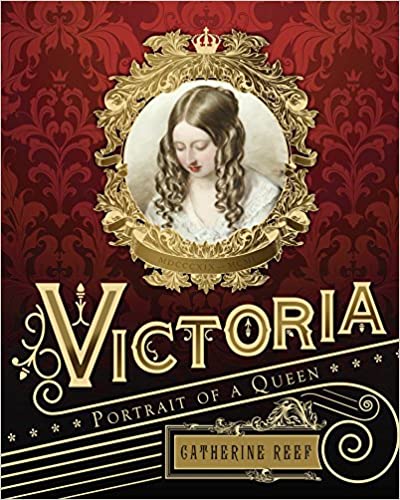 Comprehensive introduction to the life of Queen Victoria, especially written for young adults, which appeals to them to learn more about Queen Victoria and the times that she lived in. The author Catherine Reef includes many resources such as personal pictures and drawings of the Queen, letters, and articles, and much more. It is well-written and well-organized biography that is not only interesting but also fascinating because it makes one aware of their history in which they came from. It is enlightening and readable and starts off with the words: "if another princess had not died tragically and young, Victoria never would have been born."
Authors: Catherine Reef (Author)
Publisher: Clarion Books; Illustrated Edition (November 7, 2017)
Pages: 256 pages
18. The Victorian Era: A Captivating Guide to the Life of Queen Victoria and an Era in the History of the United Kingdom Known for its Hierarchy-Based Social Order by Captivating History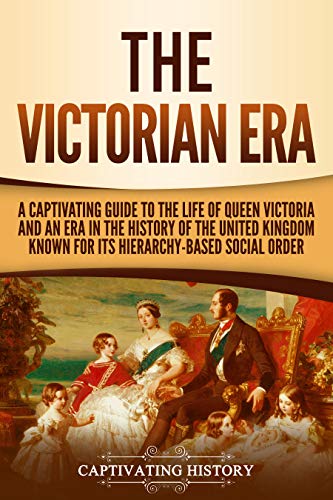 Serves as a captivating guide to the life of the powerful Queen. It is a concise biography that provides an excellent and straight forward narrative that is not only engaging but also readily comprehensible. It is thoroughly researched and presented in a clear and unbiased perspective. The information contained within is supplemented by the snippets from her journals and letters – much like other books. There is also a window of information that taps into the people of London of that time and their wealth, social status, and the impact of the cultural revolution that she brought about during that era. Its quality of the narrative is quite enjoyable, and it is an interesting read and a value for money.
Authors: Captivating History (Author)
Publisher: Ch Publications (November 26, 2019)
Pages: 122 pages
19. Queen Victoria's Buckingham Palace by Amanda Foreman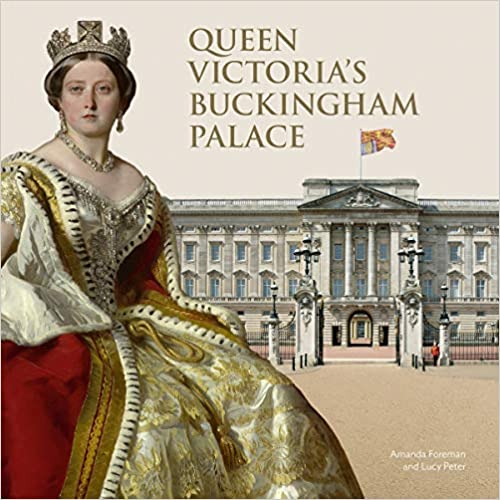 Tells the story of how Queen Victoria transformed the Buckingham Place from a bachelor pad to an iconic historical symbol of the monarchy, which became a rallying point for Great Britain and became a cherished family home for any generations to come. This new and delightful book features many objects and paintings present in the Buckingham Palace. It illustrates how Queen Victoria ascended the throne and her ceremony of coronation and how she transformed it into a symbol of national solidarity. It gives an insight into one of Britain's most influential and famous monarchs. It is a beautiful read, and one should give it a try.
Authors: Amanda Foreman (Author), Lucy Peter (Author)
Publisher: Royal Collection Trust; 1st Edition (September 15, 2019)
Pages: 122 pages
20. Curtain Down at Her Majesty's: The Death of Queen Victoria in the Words of Those Who Were There by Stewart Richards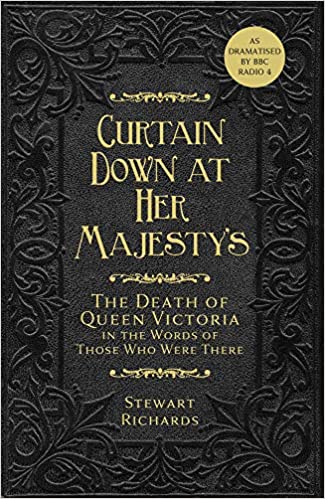 Covers the life after the death of the second longest-reigning monarch who ruled for over six decades. It tells us about the aftermath and shock that the people fell in. The confusion, the chaos, the grief, and the turmoil that struck her kingdom. The author delves into the archives of the event and creates this book, which is an interesting read and a well-researched account of the happenings. It reveals the ceremony around the deaths of the royals and how history is then made. Do give it a read.
Authors: Stewart Richards (Author)
Publisher: The History Press (September 1, 2019)
Pages: 256 pages
Choosing the Best Books on Queen Victoria
Queen Victoria was amongst the influential leaders of all time, and she is not only a figure to be looked up to but the one who should be remembered throughout history. These books explain her life and define her as a person, and one must give it a read as it will increase our knowledge about how our world came to be.