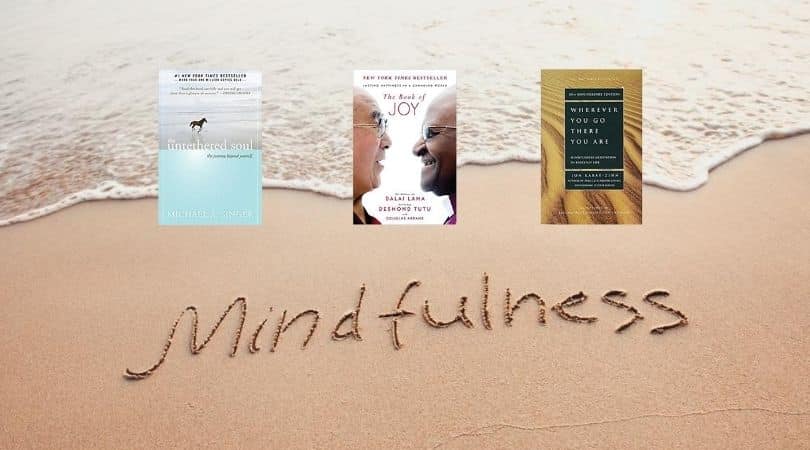 DISCLOSURE: This post may contain affiliate links, meaning when you click the links and make a purchase, I receive a commission. As an Amazon Associate I earn from qualifying purchases.
With so much on your plate like family, work, social circle, chores, and other stuff. It gets hard to stay focused on one thing at a time. Diverted attention does not only causes errors at all points but can also cause lots of stress, and tension. The tension, stress, and affects your work and also cause physical aspects of your health.
Mindfulness is the habit of being focused on the present moment and devote all your energies and thoughts towards it. While some may consider diversity as a strength that enables them to handle a lot at once. This is an abyss that does you more harm than benefit in the longer run. Mindfulness improves efficiency, performance and mental health in a number of ways.
By opting for mindfulness as a daily routine thing, you can easily cover up the stress and feeling of tiredness and pay attention to the important things at hand. It also increases your creativity, collaboration, resilience, emotional intelligence, and focus by reducing stress both physically and mentally.
What are the Best Mindfulness Books to read?
1

2

3

Book
The Untethered Soul: The Journey Beyond Yourself
The Book of Joy: Lasting Happiness in a Changing World
Wherever You Go, There You Are: Mindfulness Meditation in Everyday Life
1

Book
The Untethered Soul: The Journey Beyond Yourself
2

Book
The Book of Joy: Lasting Happiness in a Changing World
3

Book
Wherever You Go, There You Are: Mindfulness Meditation in Everyday Life
Mindfulness is a practice to keep your brain calm at all times and see it through the doors of success and mental peace and satisfaction by dedicating your energies towards focusing on what is at hand and be unbothered by past traumas or fears of future. This way, you can be assured that nothing is there to bother your focus from the past and you are satisfied for the future that it will not be hurting your performance or there is no uncertainty for you in the future. There are multiple books being written on the topic and you can have a look at some of these most helpful books that will allow you to achieve the habit of mindfulness.
Best Books on Mindfulness: Our Top 20 Picks
Here are some of the best mindfulness books that you can consider to expand your knowledge on the subject:
1. The Untethered Soul: The Journey Beyond Yourself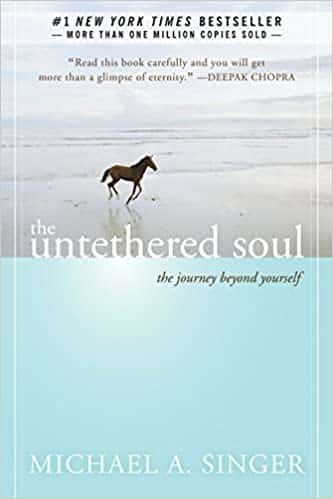 Successful psychologists and meditation masters believe that there are no limits to human brain capabilities and the only boundaries known by the man are a mere creating of itself. Michael A. Singer is one of those meditational trainers and experts who believe in demolishing the boundaries and fears create by oneself and make them look beyond it.This book is about the possibilities and wonders you can achieve once you step beyond the fears and boundaries that you have created for yourself in your mind and develop your consciousness to the point where no common matters can disturb your mental peace. This book is a theoretical explanation of emotions and thoughts and provides elaborative insight into how they work and their aspects of human behaviour.
Authors: Michael A. Singer (Author)
Publisher: New Harbinger Publications/ Noetic Books; 1st Edition (October 3, 2007)
Pages: 200 pages
2. The Book of Joy: Lasting Happiness in a Changing World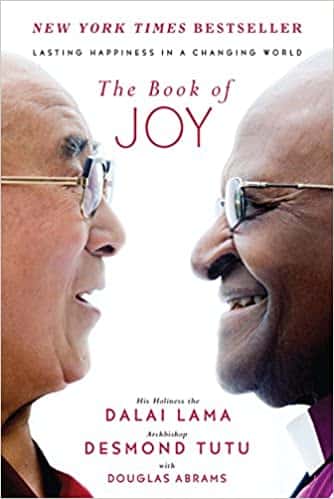 Nobel Peace price Laureates, His Holiness the Dalai Lama and Archbishop Desmond Tutu have been in exile for over fifty years and have faced a lifelong journey of oppression. Despite all the hardships and oppression, they have had to face throughout their life, they are the most joyful people on the planet.This book is a collaboration of these two as a gift towards humanity. Humans' brain has connected their happiness to timely things that are ever-changing and nothing is eternal. We fell sorrow and sad when the things we are connected to last and there is nothing in our hands to make it stop. While most humans are connected to timely happiness, this book reveals the secret to having yourself linked with eternal happiness that is going to last for long and there are no earthly matters that will be able to come between you and your mindfulness and peace.
Authors: Dalai Lama (Author), Desmond Tutu (Author), Douglas Carlton Abrams (Author)
Publisher: Avery; Later prt. Edition (September 20, 2016)
Pages: 384 pages
3. Wherever You Go, There You Are: Mindfulness Meditation in Everyday Life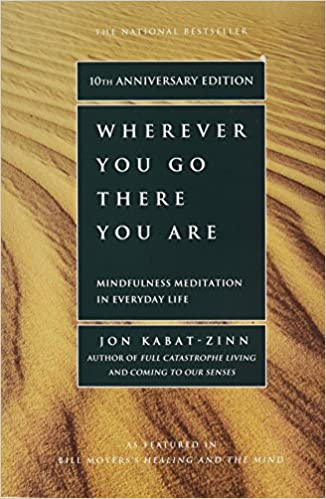 This second edition of Wherever you go: There you are is published in 2005, the first edition was published in 1994 and sold over 750,000 copies. This is one of the best sellers nationwide and is the right book if you are looking to change the way you look at your life and your perspective towards the routine tasks in your life.This book is all about bringing in Meditation in your daily life and connect it with your routine tasks. Written by Job Kabat-Zinn, this book opens new ways of thinking for you in your daily routine and you cannot have enough of the meditational and mindfulness overall your day.
Authors: Jon Kabat-Zinn (Author)
Publisher: Hachette Books; 10th Edition (January 5, 2005)
Pages: 304 pages
4. The Miracle of Mindfulness: An Introduction to the Practice of Meditation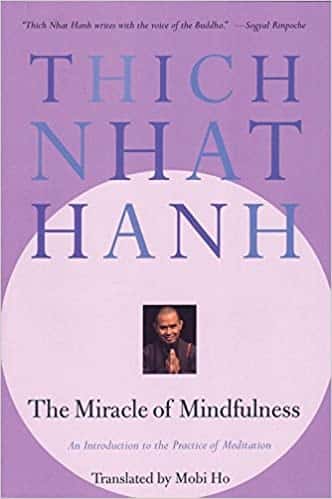 Thich Nhat Hanh is a well-known name when it comes to practice meditation and mindfulness. He is renowned for mastering the art of meditation and is known as Zen Master. This lucid guide to practice meditation to achieve mindfulness includes several practices that are guaranteed to work and you can use them in your day to day routine with ease and comfort.The book offers some easy and convenient meditation practices that you can use all day from doing dishes to sitting on your desk or eating your food. There are immersive illustrations included by Vo-Dihn Mai that are the right way to understand the meditational practices and make them a part of your routine to have a smooth journey towards mindfulness through meditation.
Authors: Thich Nhat Hanh (Author), Vo-Dihn Mai (Illustrator), Mobi Ho (Translator)
Publisher: Beacon Press; 1st Edition (May 1, 1999)
Pages: 140 pages
5. Mindfulness: An Eight-Week Plan for Finding Peace in a Frantic World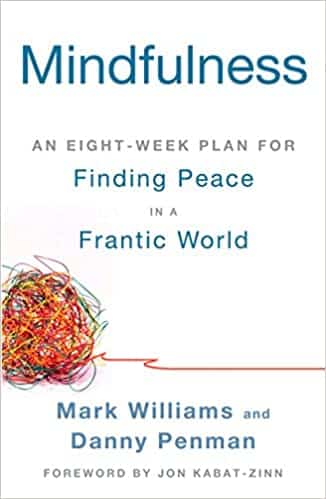 Written originally by Mark Williams and Danny Pemman, and Foreword by Jon Kabat-Zinn. Mindfulness: An Eight-week Plan for Finding Peace in a frantic world is a lifechanging therapy for those who are actually willing to work towards bringing peace in their lives by fighting their demons both inside and out.The book is based on Mindfulness-based Cognitive Therapy and has a full eight-week plan based on regular meditational therapy. You have to spare just a few minutes each day and this book has all you need to be connected with your consciousness and turn it to your good use. The book is equally effective for those in depression. Mark Williams is one of the developers of MBCT that is clinically proven to treat depression and raise self-confidence.
Authors: Mark Williams (Author), Danny Penman (Author), Jon Kabat-Zinn (Foreword)
Publisher: Rodale Books; Reprint Edition (November 13, 2012)
Pages: 288 pages
6. Little Book of Mindfulness: 10 minutes a day to less stress, more peace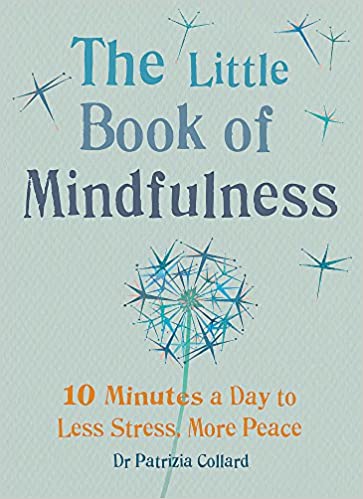 The lives of modern humans are getting more and more stressful with so much to handle and so less time at their hands. This world full of uncertainty, business, and worries at your mind. One might find it a hard job to find time for themselves and to relieve the stress. There are certain things you can find peace in. Yet, meditation remains at the top as the most efficient way to reduce stress and have real happiness.Patricia Collard has described beautifully in this book, as to how you can spare 10 minutes each day to a more peaceful life. The book offers 10 minutes practices that you can make part of your busy schedule easily and let the mindfulness change your perspective towards life and things at hand.
Authors: Patricia Collard (Author)
Publisher: Gaia; Illustrated Edition (May 27, 2014)
Pages: 96 pages
7. Mindfulness for Beginners: Reclaiming the Present Moment and Your Life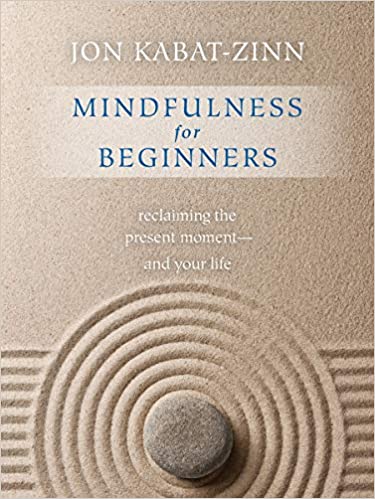 Jon Kabat-Zinn and his work towards meditation and mindfulness are well known across the world. For all those who are beginning their journey towards mindfulness and meditational practice, he serves as a light tower.
This book explains Jon's ideology of wholeness. The concept is beautifully described that the happiness and completion we long for is already lying within us. The actual thing is to unravel it and connect with your own imitation to be truly happy in life. This book is a practical guide for beginners that help them seek happiness in present and what they already have, instead of running after the things that they long for.
Authors: Jon Kabat-Zinn Ph.D. (Author)
Publisher: Sounds True; Reprint Edition (July 1, 2016)
Pages: 184 pages
8. Mindfulness in Plain English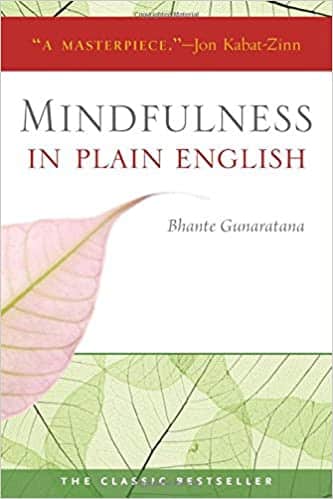 Bhante Henepola Gunaratana is a renowned meditation master. He recognized the need for an instructional guide for common people so they can understand the myths, realities, and benefits of meditational practices easily through a common language. According to Jon Kabat-Zinn, this book is a masterpiece for beginners who are looking to step-in to the world of meditation and want to change their perspective towards life and happiness through mindfulness. The book is full of practical advice on developing a meditational practice and making it a part of your everyday routine, written in clear and simple language for a beginner. Simply, the book is practical, comprehensible and easy to follow for beginners.
Authors: Bhante Henepola Gunaratana (Author)
Publisher: Wisdom Publications; 20th Anniversary ed. Edition (September 6, 2011)
Pages: 224 pages
9. The Headspace Guide to Meditation and Mindfulness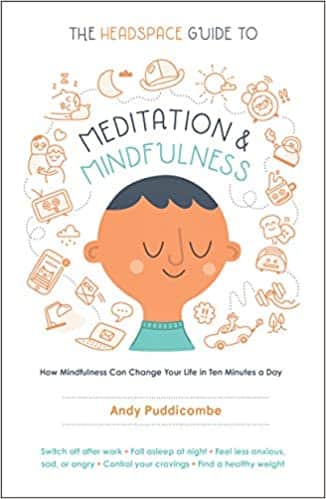 10 minutes invested in yourself from 24 hours is no difficult task at all and you can easily spare that time if it promises lesser stress, less tiredness and achieving a new level of calm and fulfilment. This book is written by a former Buddhist monk who has devoted his life to the mission of making the lives easier and happier for the sake of humanity.
This book is portable and accessible and focuses the busy people who do not have much time during their long and tiring days. The book offers 10-minutes of practice that you can do regularly each day making your life much easier and happier. Andy Puddicombe realizes the troubles of modern days and has written the book in accordance with the troubles that are being faced in daily life.
Authors: Andy Puddicombe (Author)
Publisher: St. Martin's Griffin; Reprint Edition (September 27, 2016)
Pages: 224 pages
10. 10-Minute Mindfulness: 71 Habits for Living in the Present Moment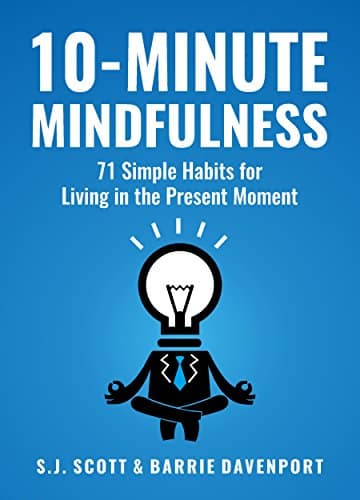 According to the psychological experts, depression and stress are caused by the past traumas haunting your thoughts. Anxiety is one of the core factors behind your depression and the main reason behind anxiety is fear of the future.
To be truly happy and achieve mindfulness, you need to focus on what is in front of you and not behind you. This book has 71 habits explained elaboratively by S.J. Scott and Barrie Davenport that allows you to see what is at hand. The book is the right guide to develop habits by just giving 10-minutes a day to make sure you are happy in the future and always living in the present moment.
Authors: S.J. Scott (Author), Barrie Davenport (Author)
Publisher: Oldtown Publishing LLC (May 21, 2017)
Pages: 249 pages
11. A Mindfulness-Based Stress Reduction Workbook (A New Harbinger Self-Help Workbook)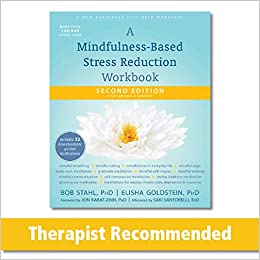 While for some people, mindfulness is a way to find their inner peace and happiness. For others, it is a way to reduce stress and anxiety and to attain calm and peace in their daily life. The first step towards eternal happiness would be to get rid of all that stress and depression that is clouding your life decisions and making it hard for you to see beyond the walls of despair.Written by experts like Bob Stahl Ph.D., Elisha Goldstein Ph.D., Afterword by Saki Santorelli EdD MA, and Foreword by Job Kabat-Zinn Ph.D. This book is a completely comprehensive guide to MBSR. If you are looking for a single book that has elaborative answers to all your questions with practical solutions to implement a meditational solution in your daily life. This is definitely the book for you. There are easy to follow instructions for meditational practices that are going to change your life.
Authors: Bob Stahl PhD (Author), Elisha Goldstein PhD (Author), Saki Santorelli EdD MA (Afterword), Jon Kabat-Zinn PhD (Foreword)
Publisher: New Harbinger Publications; Second Edition, Revised (September 1, 2019)
Pages: 256 pages
12. Mindfulness: A Practical Guide to Awakening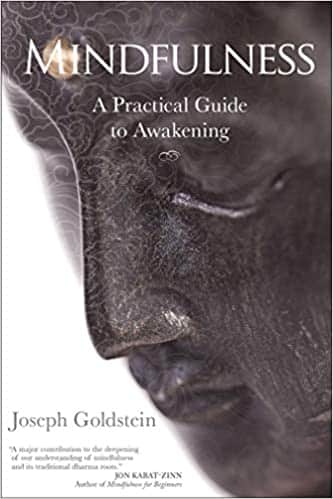 The human brain is a myth that so few have been able to understand completely. Meditation is one of the most effective and scientifically proven ways to activate the functioning of your brain and to use it towards your advantages. While there are a number of boundaries and obstacles in your brain, the mind also contains the seeds of its own awakening.Joseph Goldstein is one of the most well-known meditational masters and psychological experts who believe in the unlimited potential of the human brain. In this book, he has explained thoroughly, as to how you can work towards making your brain work to its fullest and demolish the obstacles by attaining the right level of mindfulness.
Authors: Joseph Goldstein (Author)
Publisher: Sounds True; Reprint Edition (March 1, 2016)
Pages: 459 pages
13. Practicing Mindfulness: 75 Essential Meditations to Reduce Stress, Improve Mental Health, and Find Peace in the Everyday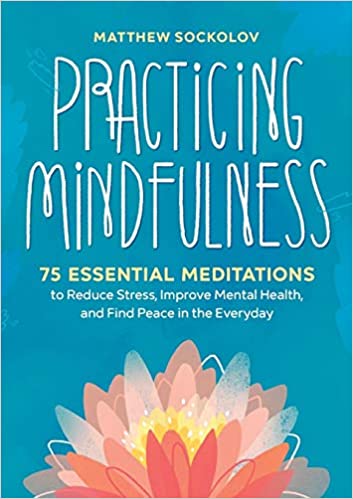 When it comes to practicing meditation, you might get confused as to where to start with and what would be the best meditational practice that suits your needs best. This book is a complete elaboration of meditational practices and an explanation for them.Written by Matthew Sockolov, the book offers a complete and elaborative practical advice for overcoming the obstacles and looking beyond the self-created boundaries of your mind to achieve a truly happy, and stress-free approach towards everything in life.
Authors: Matthew Sockolov (Author)
Publisher: Althea Press (September 11, 2018)
Pages: 210 pages
14. Ultimate Mindfulness Activity Book: 150 Playful Mindfulness Activities for Kids and Teens (and Grown-Ups too!)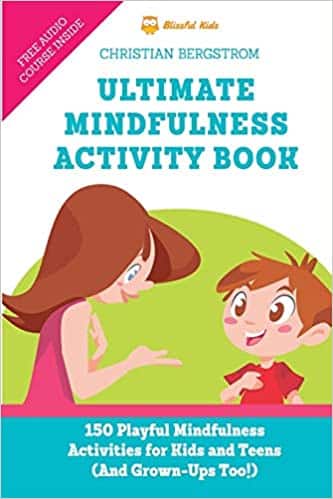 While Mindfulness and Meditation look a serious and adults thing, it is all about making it a habit and habits developed at an early age to stay with you for life. This book makes it look like all fun and games to develop meditational habits and see kids towards mindfulness from an early age.
The book has all to offer that is needed by a young person in their early age to practice mindfulness and make it a lifelong habit. Teenagers and even adults can use this book to adopt these habits as fun and games and make their life filled with happiness and pleasure without any worries or depression.
Authors: Christian Bergstrom (Author)
Publisher: SUOMEN ISBN-KESKUS (February 24, 2019)
Pages: 232 pages
15. Mindfulness, 25th anniversary edition (A Merloyd Lawrence Book)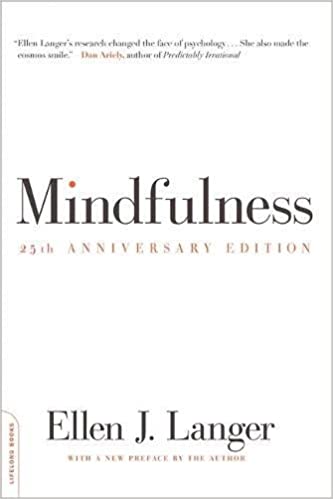 Our lives are revolving around the principles of happiness and mindfulness. This book is an elaborative explanation for understanding the very fundamentals of meditation that are revolutionizing the lives of every human being.
Written by Ellen J. Langer, this book explains how mindfulness can be applied to every aspect of our lives and change our perspective toward everything as we know and see it. The book presents some wondrous and unique applications of mindfulness in day-to-day routines as to how it can help you achieve the true state of eternal happiness and get rid of worries, anxiety, distress, and depression in your life.
Authors: Ellen J. Langer (Author)
Publisher: Da Capo Lifelong Books; 25th Anniversary ed. Edition (October 14, 2014)
Pages: 272 pages
16. The Mindfulness Workbook for Anxiety: The 8-Week Solution to Help You Manage Anxiety, Worry & Stress
There are a number of books explaining the concepts of meditation and how mindfulness can allow you to achieve what you seek. However, those books are focused more on what is possible and not entirely on the way to achieve that.
This workbook for Anxiety by Tanya J. Peterson MS NCC is a complete, elaborative guide on how you can achieve the mindfulness. Lessons spread over 8-weeks of progressive practices and habits allow you to effectively manage your Anxiety, Worries & Stress.
Authors: Tanya J. Peterson MS NCC (Author)
Publisher: Althea Press; Workbook Edition (May 15, 2018)
Pages: 192 pages
17. Trauma-Sensitive Mindfulness: Practices for Safe and Transformative Healing
Written originally by David A. Treleaven and Foreword by Willoughby Britton, this book is an effective solution for those who are suffering from past traumas and want to get rid of the incidents of past that are affecting their present lives.
There are a number of books on attaining a healthy lifestyle and focus on the present to be truly happy and connected with your intuition. However, this book understands the need for creating a strong foundation for true happiness that is everlasting. The book is about practicing safe and transformative healing to shed your demons forever and move forward as a new and happy person with inner peace.
Authors: David A. Treleaven (Author), Willoughby Britton (Foreword)
Publisher: W. W. Norton & Company; 1st Edition (February 13, 2018)
Pages: 264 pages
18. A Clinician's Guide to Teaching Mindfulness: The Comprehensive Session-by-Session Program for Mental Health Professionals and Health Care Providers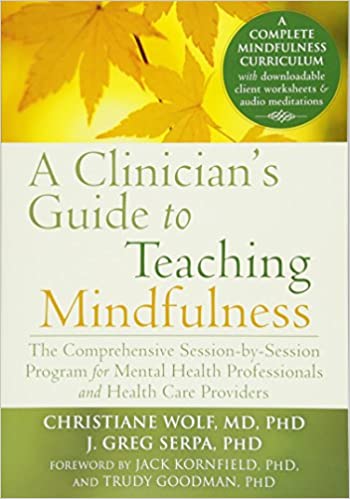 This book is considered a masterpiece for all those who are looking into mindfulness and are having trouble relating it with the scientific facts and figures. While meditation is clinically proven to be beneficial for mental health, the thin line that connects meditation with logic is explained beautifully in this book full of insight into meditation and psychology.
Written by Christiane Wolf MD Ph.D., J. Greg Serpa Ph.D., and Foreword by Jack Kornfield Ph.D., and Trudy Goodman Ph.D. This clinician's guide to teaching mindfulness is focused on young practitioners who are helping their patients through psychology to achieve mindfulness through meditational techniques. The book is based on evidence and follows a secular perspective of the ideology of meditation in a scientific way.
Authors: Christiane Wolf MD PhD (Author), J. Greg Serpa PhD (Author), Jack Kornfield PhD (Foreword), Trudy Goodman PhD (Foreword)
Publisher: New Harbinger Publications; 1st Edition (June 1, 2015)
Pages: 232 pages
19. A Year of Mindfulness: A 52-Week Guided Journal to Cultivate Peace and Presence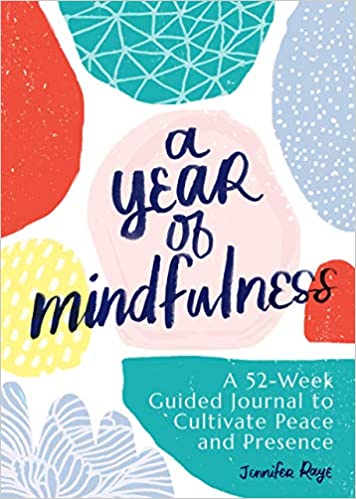 The meditational practices are not hard to implement in your daily life presenting you with a happy and calmer version of yourself. While you can practice and make a habit of mindfulness within days or weeks, the path is never-ending and the more you work towards it, the more wonders you can unravel.
This elaborative journal by Jennifer Raye is the right explanation towards the mindfulness and meditational practices as to what lies beyond the basic fundamentals and the things you can do to achieve a truly strong bond with yourself through meditation. The book contains examples, and practices spread over the span of a year that will help you towards a longer journey and deep insight into meditation and mindfulness. The habits over time get stronger and this book is a must-read for you if you want to make a life-long habit of mindfulness and meditation.
Authors: Jennifer Raye (Author)
Publisher: Rockridge Press (October 15, 2019)
Pages: 172 pages
20. Mindfulness Cards: Simple Practices for Everyday Life (Daily Mindfulness, Daily Gratitude, Mindful Meditation)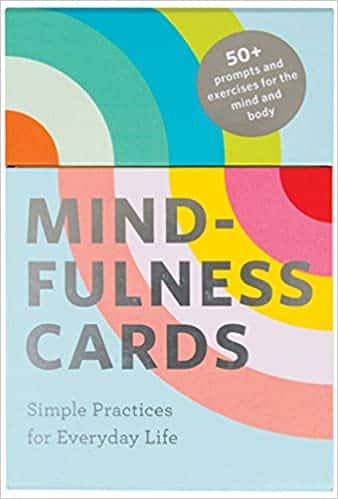 When you look at it afar, meditational practices may seem like a difficult mental exercise that is hard to get command over and you might be hesitant to give it a try. If you are afraid of starting and want help with simple, and basic practices that will have revolutionary effects on your life. This is definitely a must-read book for you.
Written by Rohan Gunatillake, this book has over 50 prompts and exercises that you can implement in your daily routine making it an easy to adapt habit. Big things are achieved by taking smaller steps towards it and this book is the perfect help for you to look at the meditation the easier way and adopt these simple practices in your everyday life and tasks.
Authors: Rohan Gunatillake (Author)
Publisher: Chronicle Books; Crds Edition (April 10, 2018)
Pages: 65 pages
Choosing the Best Mindfulness Books
Mindfulness is the right and clinically proven way to reduce anxiety and stress and see yourself towards eternal happiness. Meditation has a way to practice daily and make it a part of your daily routine so you can be at peace with yourself. These books are the right way to get rid of the past traumas haunting you and the anxiety you get through the fear of what future beholds.
We have critically reviewed this book and you can go through the reviews and choose the right book for you that fits your needs and goals best. This guide will help you with choosing the right book and help you with your journey towards mindfulness and eternal happiness.