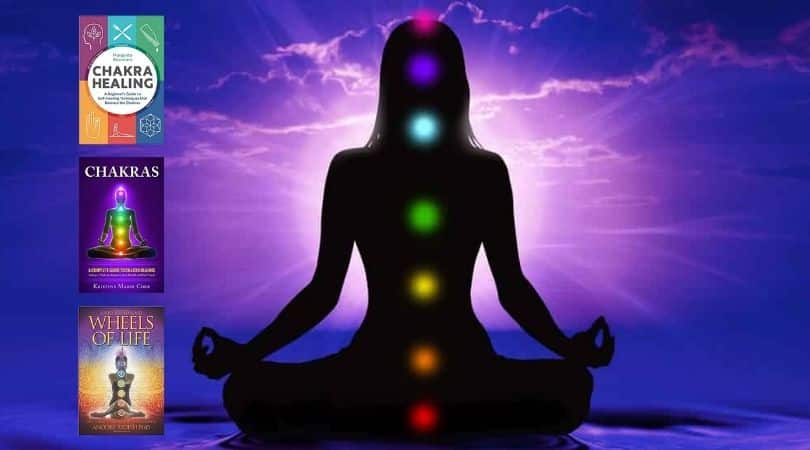 DISCLOSURE: This post may contain affiliate links, meaning when you click the links and make a purchase, I receive a commission. As an Amazon Associate I earn from qualifying purchases.
Chakra refers to the wheel of energy throughout the human body. There are seven types of chakras. It starts from the root of the spine and goes to the crown of the head. It is most famously used in yoga and Ayurveda terminology. These wheels of energy correspond to the massive nerve center points in the body, and it helps our major organs and psychological, emotional, and spiritual state of our being. It is a type of meditation that focuses on the energy surge inside us than the mental state.
What are the Best Chakra Books to read?
1

2

3

Book
Chakra Healing: A Beginner's Guide to Self-Healing Techniques that Balance the Chakras
Chakras: A Guide to Chakra Healing: Balance Chakras, Improve your Health and Feel Great
Wheels of Life: A User's Guide to the Chakra System (Llewellyn's New Age)
1

Book
Chakra Healing: A Beginner's Guide to Self-Healing Techniques that Balance the Chakras
2

Book
Chakras: A Guide to Chakra Healing: Balance Chakras, Improve your Health and Feel Great
3

Book
Wheels of Life: A User's Guide to the Chakra System (Llewellyn's New Age)
Chakras have the eternal responsibility of input, process, and output of energy that keeps us functioning throughout the day at optimal levels. There are two levels of Chakras in our body. Major and Minor. It is also essential to make sure that our Chakra is performing well. If it is not, it means that it is blocked, and illness is more likely to occur. It also affects our moods and state of mind. If we feel depressed, it means that our mind is not receiving the maximum amount of energy that it should receive. Hence, taking proper nutrients and food is also crucial at a time like this.
To understand the basics and mechanisms of Chakra is very important. Hence, I have reviewed some of the best books on Chakras as follows:
Best Chakra Books: Our Top 20 Picks
Here are some of the best chakra books that you can consider to expand your knowledge on the subject:
1. Chakra Healing: A Beginner's Guide to Self-Healing Techniques that Balance the Chakras by Margarita Alcantara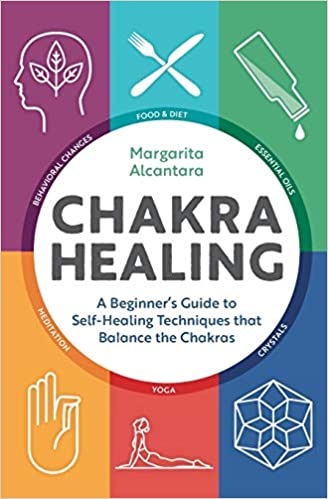 Explains each Chakra and what a balanced chakra looks like and what symptoms you need to look out for an unbalanced chakra. It is a colorful and aesthetically pleasing little book that serves as a handbook in your bag that describes the theoretical energy centers in your body and how to balance and unblock them. It is divided into two sections: "The Powerful Chakra System" and "Healing Your Chakras" and a guide to yoga poses and healing crystals. The author herself is an experienced acupuncturist and a reiki master, so you know her information comes from experience and practice. It is a good book and a value for money.
Authors: Margarita Alcantara (Author)
Publisher: Althea Press; Illustrated Edition (February 14, 2017)
Pages: 190 pages
2. Chakras: A Complete Guide to Chakra Healing: Balance Chakras, Improve Your Health and Feel Great by Kristine Marie Corr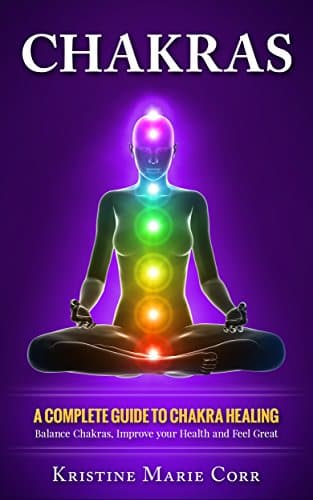 Serves useful if you are curious to know the working of the seven chakras and how they have an impact on your body, soul, and mind. It does an excellent job of explaining the Chakras in a simple way that both easy to understand and practical to implement. The information provided is divided into different categories and sections. Hence, you know what you are looking for, and it helps you understand each element of healing and maintaining healthy chakra balances correctly. It is a perfect book to read for anyone wanting to learn or anyone interested in knowing about Chakras.
Authors: Kristine Marie Corr (Author)
Publisher: Maven Publishing (April 12, 2016)
Pages: 61 pages
3. Wheels of Life: A User's Guide to the Chakra System by Anodea Judith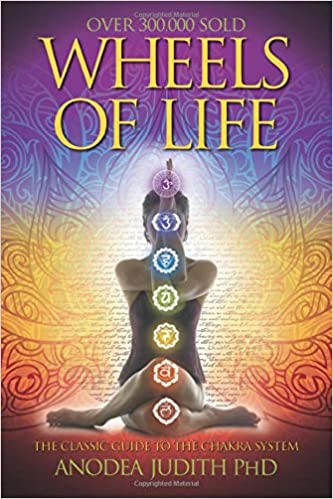 Will make you want more, and you would want to go back and read it again and again. In this book, you will not only gain information about Chakra but also learn Sanskrit behind it, the philosophy that brings the concept together, but also its meaning, location, element, mantra sound, and so on. Each chapter has a meditation and yoga exercise on the particular Chakra that they are talking about, so you can always focus on the one that resonates more with you. It is an interesting read and the one which will give you a whole new perspective on Chakras.
Authors: Anodea Judith (Author)
Publisher: Llewellyn Publications; 1st Edition (January 1, 1987)
Pages: 519 pages
4. Chakra Balancing Made Simple and Easy by Michael Hetherington
Gives you access to many fairly basic teachings which perfect for those who enjoy short and brief works yet getting all the information that they need within the short text and who are not looking to be too involved. The book is focused more on the exercises that will unblock the chakras and does so with the help of illustrations that define the techniques. They are easy to work around and incorporate into your daily life, but the trick is to practice it thoroughly and every day so that you may get the benefits of your hard work. It is very to read and understand and value for money.
Authors: Michael Hetherington (Author)
Publisher: Mind Heart Publishing; 2nd Edition (September 3, 2012)
Pages: 45 pages
5. A Beginner's Guide to the Chakras by Marion McGeough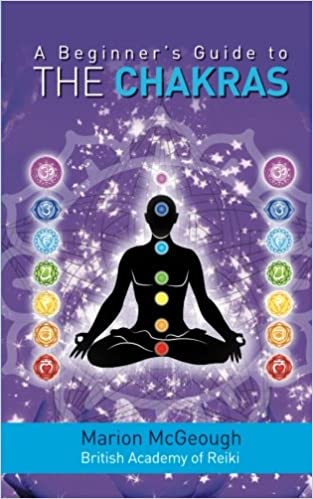 Provides a fantastic and clear summary of chakras and guides you from where to start and build your knowledge overtime. It is very simply written and easy to understand, and the information that is laid out is in a very clear and concise manner. It explains the use of the crystals and different oils as well, which one might find interesting, and since it is an easy-to-follow book, you can easily bring the knowledge gained into your personal everyday life.  Highly engaging and a fun read.
Authors: Marion McGeough (Author)
Publisher: CreateSpace Independent Publishing Platform (November 8, 2013)
Pages: 74 pages
6. The Ultimate Guide to Chakras: The Beginner's Guide to Balancing, Healing, and Unblocking Your Chakras for Health and Positive Energy by Athena Perrakis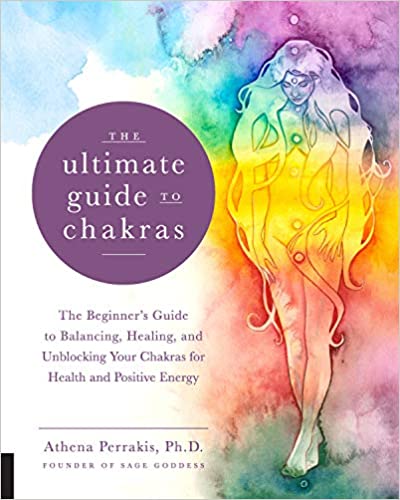 Gives a fantastic beginner's guide to chakras with over a dozen divination and predictive techniques. It has a step-by-step guide to each of the common chakras, including how to spot and heal when they are blocked and what scents ad crystals work with each other. It is very informative and a perfect guide that you can learn from. It also addresses the nine major power centers that connect your physical body and the whole world of energy and explains deeply on how to tap into them for balancing and healing yourself. It is a brilliant book and a must-read for everyone.
Authors: Athena Perrakis (Author)
Publisher: Fair Winds Press; Illustrated Edition (September 11, 2018)
Pages: 208 pages
7. The Chakra Bible: The Definitive Guide to Working with Chakras by Patricia Mercier
Teaches one to harness the power of Chakras and apply it to your yoga routine. You can use it as a reference in your personal life and your spiritual life. It is a very good starting point for anyone who wants to get a feel for chakras. It teaches many different methods of clearing and awakening your energies. It contains everything from crystals to yoga and aromatherapy to meditation. It is highly recommended and worth your while. It was beautifully constructed and aesthetically pleasing with great attention to detail that will be an excellent addition to your personal library.
Authors: Patricia Mercier (Author)
Publisher: Sterling; Illustrated Edition (December 1, 2007)
Pages: 400 pages
8. Anodea Judith's Chakra Yoga by Anodea Judith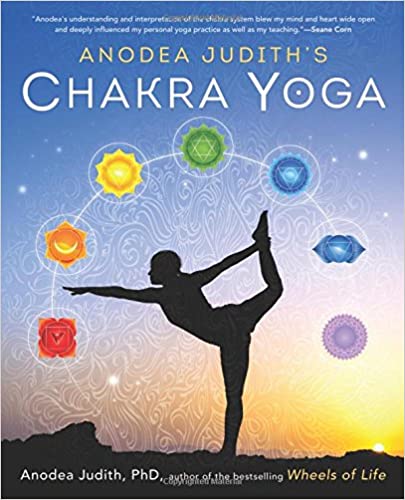 Explains how she developed her extraordinary practice due to her health conditions that made it challenging for her to take part in the yoga classes at the gym. Her story inspires and motivates people to do better and work on themselves. This book walks you through chakras in yoga practice and provides a reference tool of navigation hence making it easier to read and follow the steps. It is useful for training purposes and very informative, considering it is based on the writer's own interpretation and experiences.
Authors: Anodea Judith (Author)
Publisher: Llewellyn Publications; 1st Edition (September 8, 2015)
Pages: 454 pages
9. Essential Chakra Meditation: Awaken Your Healing Power with Meditation and Visualization by April Pfender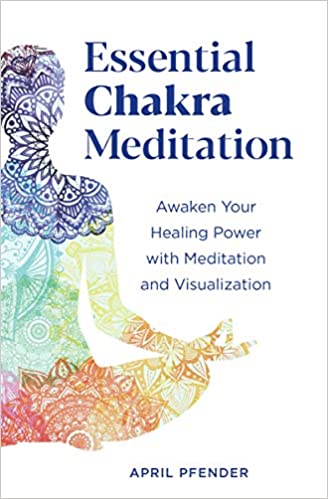 Provides an insight into this well-constructed and well-written little book on the healing process of impaired chakra energy flows through constant meditation, and it is not only helpful but also inspiring. It is a 140-page book full of colorful illustrations and readable fonts that make it much easier to devour this book whole. It's ten chapters are divided into two parts. The first part concentrates on the concept of Chakra and how it works, while the second part focuses on the step-by-step guide to the meditation process that builds upon the concept created in the first section. The meditation process is a wide range of methodologies, and you can easily see them being divided into broad categories, which helps create a balance. It is highly recommended and a good value for money.
Authors: April Pfender (Author)
Publisher: Althea Press (August 20, 2019)
Pages: 154 pages
10. The Book of Chakras: Discover the Hidden Forces Within You by Ambika Wauters
Starts by giving a fairly basic introduction to chakras and talks about the seven major chakras: their etheric body location and their corresponding physical body location. After that, it moves on to outline the mechanism of the work. It does well in describing what happens when one or more chakras are not performing well and relates the theory with common diseases and body problems. It also talks about healing and meditation techniques and how to go about it. Overall, it is a good and comprehensive book with lots of information that one can devour and practice in real life.
Authors: Ambika Wauters (Author)
Publisher: B.E.S.; Illustrated Edition (April 1, 2002)
Pages: 128 pages
11. Chakras: Chakras for Beginners – How to Awaken and Balance Chakras, Radiate Positive Energy and Heal Yourself by Michael Williams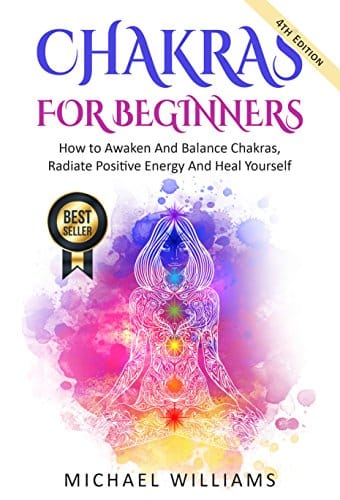 Explains each Chakra in detail and helps you assess the health of each and how to heal when your Chakra is blocked. It also describes how the Chakra interacts with the physical body and has an impact on each other, and this makes this book interesting. It has crystal suggestions for each Chakra and explains nine instead of seven types of basic chakras. It is very informative, and if you are looking to learn about Chakras and how they affect your health and life and how you should be able to balance them, then this is the perfect book for you.
Authors: Michael Williams (Author)
Publisher: CreateSpace Independent Publishing Platform; 4th Edition (July 2, 2017)
Pages: 202 pages
12. Chakras for Beginners: 101 Things You Need to Know About Chakras. The Ultimate Guide to Awaken, Balance and Self Heal Through the Power of Chakras by Ella Hughes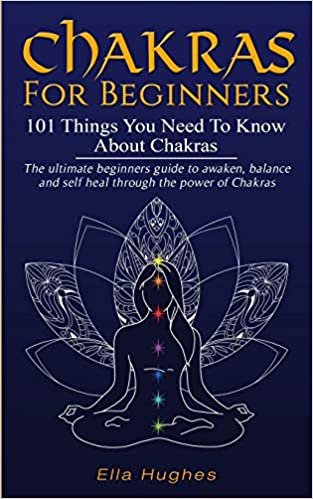 Starts by first giving us the history of how chakras were first discovered and how modern technology and sciences play an active part in dealing with it today. It is a comprehensive book that explains how chakras work, what the seven and twelve chakra systems are, and how to deal with different types of Chakra and resonate a positive and a healing aura around you. They also help to regulate all of your body processes and goes from organ function to your immune system and emotions. It is very well-written and easy on the pocket.
Authors: Ella Hughes (Author)
Publisher: Independently published (December 9, 2018)
Pages: 128 pages
13. Chakra Balance: The Beginner's Guide to Healing Body and Mind by April Pfender
Starts from the very basics about the chakras and, like other books mentioned, gives a detailed and a comprehensive version of the topic. It helps you grow personally and spiritually. The layout of the book made it fun and not a drag like most books. It also serves as a great book on hand because if you are curious about a healing method or an associated essential oil, then you can quickly locate the chapter and read it. The breakdown of the book is also really done well, and one is kept hooked for more. You will not only devour this book but also practice its teachings in your real life and work towards a healthy, happy, and balanced life.
Authors: April Pfender (Author), Melyssa Griffin (Foreword)
Publisher: Althea Press; Illustrated Edition (June 26, 2018)
Pages: 208 pages
14. The Modern Chakra Guide: 7 Steps to Awaken Your Energy in Today's World by Carol Tuttle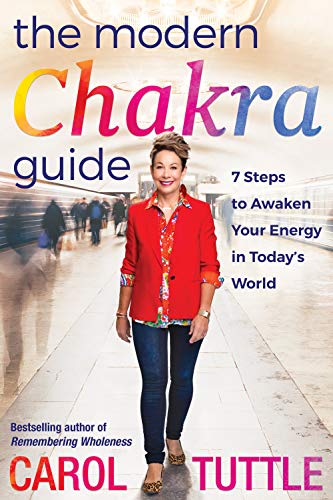 Teaches you to work with your personal energy system instead of fighting it and brings to light the importance of self-love and how one should rely on themselves to heal and support your body and mind. Not only is this book easy to understand, but it is also very engaging and a compelling read containing references that will help you throughout your life. The unique factor of this book is that it teaches you about your personal energy makeup and implies that it is just as helpful as learning about your physical body and psyche. It also gives a precious lesson that we forgive those who have hurt us as we continue to heal. You will have to read this book to find out how this theory builds up.
Authors: Carol Tuttle (Author)
Publisher: Live Your Truth Press (November 14, 2019)
Pages: 262 pages
15. The Seven Chakra Sisters: Make Friends with the Inner Allies Who Keep You Healthy, Laughing, Loving and Wise by Linda Linker Rosenthal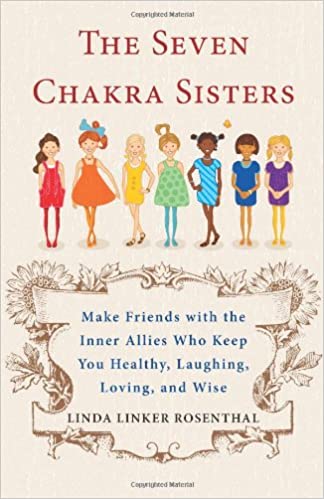 Gives an overview of a lovely fictional story of the seven chakras in the body and what happened when they are blocked. This book explains the concept of chakras using the storytelling approach in a fun way without being bogged down or sleeping midway through the book. It is an excellent book to read if you ever have been depressed or struggled with mental illness. It is fresh and gives a whole new perspective on the teachings it portrays.
Authors: Linda Linker Rosenthal (Author)
Publisher: Hampton Roads Publishing (June 1, 2013)
Pages: 256 pages
16. Chakra Wellness Made Simple by Connie Boucher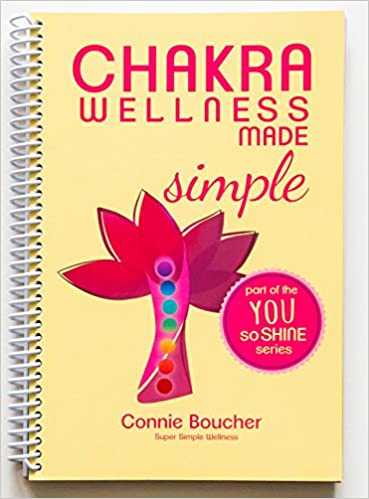 Teaches you about Chakra and the use of essential oils in your meditation and routine. It doesn't really contain information about why certain oils work best for some types of chakras, but it is a good starting point for your knowledge of chakras. It also teaches you how easily you can recognize and reverse imbalances and stay open in alignment so that you can live a healthy life. It is very easy to understand and very informative. It is also easy on the pocket and worth a read.
Authors: Connie Boucher (Author)
Publisher: AromaTools; 2nd Edition (January 1, 2015)
Pages: 210 pages
17. The Seven Chakra Personality Types: Discover the Energetic Forces that Shape Your Life, Your Relationships and Your Place in the World by Shai Tubali
Serves as an exercise book that not only contains information but also provides quizzes and a scoring system that helps you learn the concepts better and quicker and gives you a chance to test yourself. It has an interesting perspective of the chakra system with lots of helpful suggestions. Its chapters are well-defined, and you can feel which one is more suited to you and what you are looking for. It also gives an insight into the balancing and enhancing type of chakras and how to locate and control them. It is an exciting read, and one would definitely enjoy it.
Authors: Shai Tubali (Author)
Publisher: Conari Press (September 1, 2018)
Pages: 288 pages
18. Chakradance: Move Your Chakras, Change Your Life by Natalie Souhgate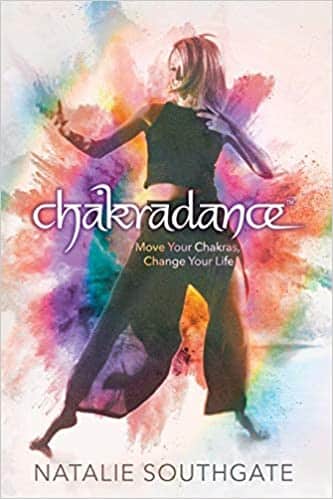 Serves as a dancing guide so amazing book that you will devour in one sitting. The exercises and the insights given in this book are beneficial and inspiring, and to learn how you will have to read the book to find out. It will help you deepen your practice and renew your passion through the art of Chakradance, and you won't resist going back to it for references and motivation. The author herself is a Chakradance founder and facilitator who explains with the help of illustrations and examples on how the moving meditation works wonders, especially to those who have trouble sitting still in one place for a long time. It is a good read for those who have heavy baggage and love dancing and moving around a lot. It is a great read and a value for money.
Authors: Natalie Southgate (Author)
Publisher: Hay House AU (November 27, 2018)
Pages: 288 pages
19. Chakra Empowerment for Women by Lisa Erickson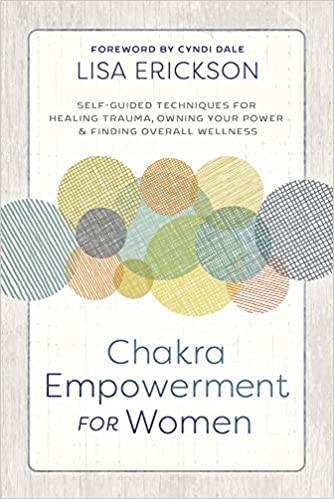 Gives an overview of the topic from the women's point of view. It is a wonderful book, and one should definitely get it. It not only had the old information, which is found in every other book, but also contained new information, and it shows that the author is well-versed and genuinely understands her subject. It is clear, jargon-free, and nuanced, thus making it an excellent piece of writing. It is specially designed for women and touches upon some sensitive issues as well, like sexual assault and abuse, which makes it even more sympathetic towards women that makes them empowered and uplifts them into achieving more. The author's words are a natural healer, and it is highly recommended that you get it for your personal library.
Authors: Lisa Erickson (Author)
Publisher: Llewellyn Publications (December 8, 2019)
Pages: 360 pages
20. The Chakra System: A Complete Course in Self-Diagnosis and Healing by Anodea Judith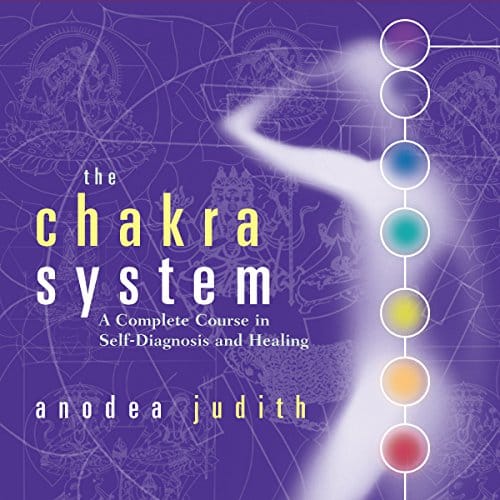 Gives the opportunity of listening rather than reading in this one of a kind audiobook that really makes you delve into the psychological ties to the chakras and how they can be blocked and unblocked. It explains that the energy is within you, and if you concentrate enough and have the right kind of knowledge, you can harness it and control it and tie it to your daily life. How to do that? You will learn it once you read the book yourself and practice what it has to offer. The author does an excellent job of writing and constructing this book as it is not only detailed but also does not make a person feel overwhelmed by the information.
Authors: Anodea Judith (Author, Narrator), Sounds True (Publisher)
Publisher: Sounds True
Choosing the Best Chakra Books
One must be fully aware of all the chakras and how they will impact your life and bring your body through all types of awakening. Bring a balance to your life and see how it changes for the better. You can select any book from this guide and work towards making your life enriched, healthy, and happy.