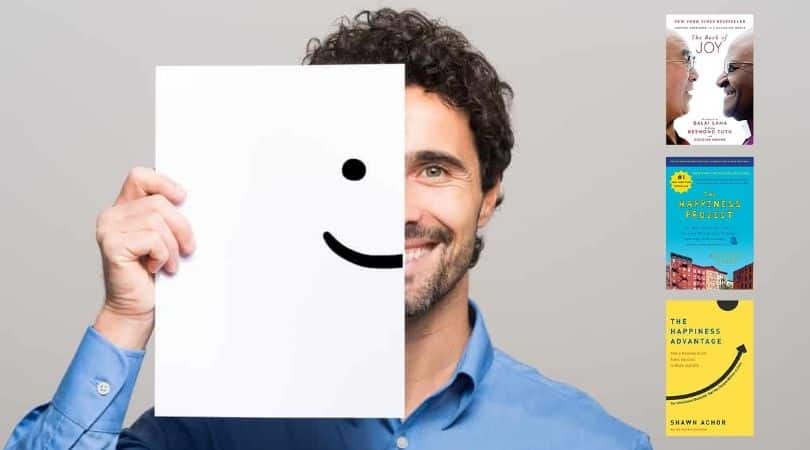 DISCLOSURE: This post may contain affiliate links, meaning when you click the links and make a purchase, I receive a commission. As an Amazon Associate I earn from qualifying purchases.
Happiness is a rare feeling that not everyone is blessed with. I must say that happiness is not only a feeling. Rather, it is an element that is necessary to live life in a beautiful way. There is no doubt that the path that leads to happiness is full of hurdles, but there is one thing that will protect you from all these hurdles, and that thing is positivity.
What are the Best Happiness Books to read?
1

2

3

Book
The Book of Joy: Lasting Happiness in a Changing World
The Happiness Project, Tenth Anniversary Edition: Or, Why I Spent a Year Trying to Sing in the Morning, Clean My Closets, Fight Right, Read...
The Happiness Advantage: How a Positive Brain Fuels Success in Work and Life
1

Book
The Book of Joy: Lasting Happiness in a Changing World
2

Book
The Happiness Project, Tenth Anniversary Edition: Or, Why I Spent a Year Trying to Sing in the Morning, Clean My Closets, Fight Right, Read...
3

Book
The Happiness Advantage: How a Positive Brain Fuels Success in Work and Life
Positivity may sound just an ordinary word, but in reality, it is something beyond ordinary rather way beyond ordinary. Positivity not only means to think positively, but it obligates to stay positive in all aspects of life. Whether it be your family relations, your social terms, your practical examples, your religious beliefs, your work routine, or any other matter of life, all you need to do is to stay positive anyway.
Also, there stands a famous misconception that success leads to happiness, but this is entirely wrong. This is so because it is not the success that makes you happy, but it is the happiness that makes you successful. Below we will be talking about 20 books written on happiness. You can easily choose your preferred one by reading a few lines written below them and decide which one has touched your heart.
Best Books on Happiness: Our Top 20 Picks
Here are some of the best happiness books that you can consider to expand your knowledge on the subject:
1. The Book of Joy: Lasting Happiness in a Changing World
Regardless of facing loads of troubles in his life, Dalai Lama is still hopeful for a happy life and is working towards making other's lives happy too. He has pondered upon the most asked question that what does happiness in life means when you have experienced tons of troubles.
The author's life is a message to the rest of the world, which is kept going on with your spiritual practices, and by the end, you will be rewarded with loads of laughter and bundles of joys. 
The book of joy discusses the meeting of Dalai Lama and Archbishop Desmond from the very first time until the very last time. They have together conquered their fears, anger, stresses, grieves, and illnesses to feel the nature of true joy and to cherish the real happiness.
Authors: Dalai Lama (Author), Desmond Tutu (Author), Douglas Carlton Abrams (Author)
Publisher: Avery; Later prt. Edition (September 20, 2016)
Pages: 384 pages
2. The Happiness Project, Tenth Anniversary Edition: Or, Why I Spent a Year Trying to Sing in the Morning, Clean My Closets, Fight Right, Read Aristotle, and Generally Have More Fun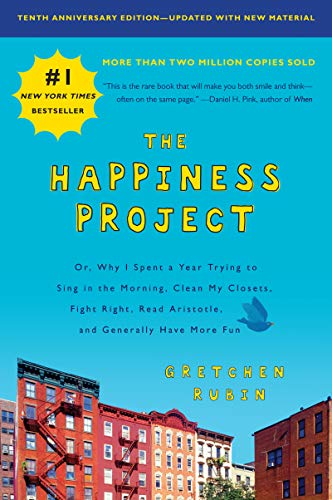 True happiness us something too rare to cherish. Remember, this blessing does not come in everyone's life. You have to dig through yourself deep and deep to get this feeling. Gretchen Rubin has added classical philosophy and genuine examples to her writing to show loyalty to the title containing "true."
The Tenth Anniversary Edition of The Happiness Project is quite relatable and forms a strong bond with the reader. This special edition is specially meant to deliver a conversation with Gretchen Rubin, a number of happiness stories, and a lot of ways to feel your true happiness.
The author has found the key to happiness, and she says that two elements, novelty, and challenge are enough to feel true happiness.
Authors: Gretchen Rubin (Author)
Publisher: Harper Paperbacks; Illustrated Edition (October 30, 2018)
Pages: 368 pages
3. The Happiness Advantage: How a Positive Brain Fuels Success in Work and Life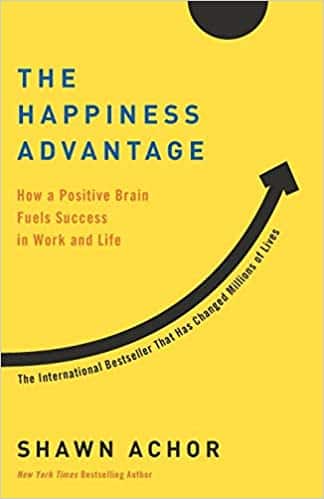 A famous saying says that hard work will lead to success and that success leads to happiness. Happiness lies between getting a great job, achieving another promotion, getting your desired car, achieving your ambitions, winning the games, losing the extra weight, dressing smart, and the list goes on.
The author highlights the fact that positive brains are more creative, determined, and successful. As per recent studies, it has been discovered that happiness leads to success; not success leads to happiness.
The Happiness Advantage, written by Shawn Achor, is a complete research-based book that tells us about the points that must be kept in mind in order to make our brains even more positive, ultimately making our lives more successful.
Authors: Shawn Achor (Author)
Publisher: Currency; Illustrated Edition (June 5, 2019)
Pages: 256 pages
4. The Art of Happiness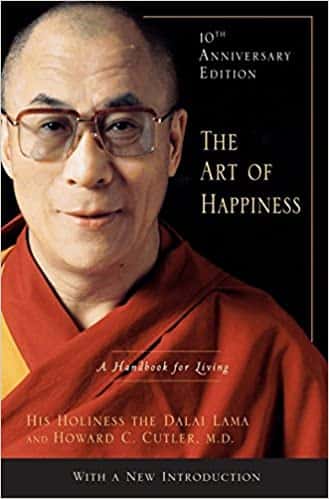 Keeping that smile on your face even after losing the most precious things is not an easy task. Telling others that you are happy even after suffering through a lot is just Dalai Lama's virtue. According to him, happiness is the only reason for living, and every single step taken by us is towards fulfilling this goal.
The author has used simple words to explain this message that touches the cores of the hearts when uttered. He has nicely given ideas on how to keep depression away from you also that he has talked about fighting moral evils like anger, anxiety, jealousy, etc. and defeating them at last.
The Art of Happiness involves the essence of meditation, spirituality, and psychology, to throw light upon the basic elements of life, such as family, work, health, etc.
Authors: Dalai Lama (Author)
Publisher: Riverhead Books; 10th Anniversary ed. Edition (October 1, 2009)
Pages: 352 pages
5. The Happiness Trap: How to Stop Struggling and Start Living: A Guide to ACT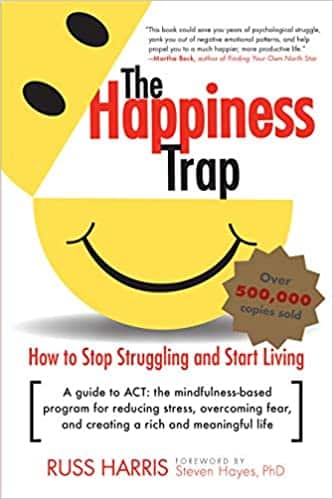 The Happiness Trap talks about those strugglers who want to walk to their destination; happiness but face a lot of hurdles in the way. Overcoming these hurdles tangles such strugglers and they get deviated from their right paths.
Russ Harris says that people often meet stress, anxiety, and depression while they are on their way to find happiness. This book highlights the formulas of ACT (Acceptance and Commitment Therapy) that aids people in escaping through the trap in which they get caught while searching for happiness.
This book lists the techniques to stay happy. These techniques include reducing stress and stopping worrying. Also, use more effective ways to deal with painful sentiments and memories. Cut down on self-defeating habits. Be confident and stop underestimating yourself. Add meaning and purpose to your life.
Authors: Russ Harris (Author), Steven C. Hayes PhD (Foreword)
Publisher: Trumpeter; Illustrated Edition (June 3, 2008)
Pages: 240 pages
6. The Happiness Hypothesis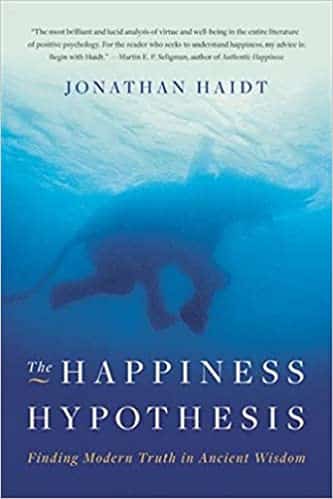 The Happiness Hypothesis is actually an audiobook that tells about ten great ideas that mean a lot. Each new chapter leads to the beginning of another idea that works as a life changer. While keeping in mind the modern notes, this book is the cause of the flourishment and advancement of humans.
Jonathan Haidt has beautifully written the key to a successful life in simple words. He says that keeping an understanding of the philosophical wisdom of the world is a must, and one should surely try to learn it.
The author has mentioned a statement that you should treat others the same way as you expect from them to treat you. This is how things go on, and this is how the balance of life is maintained.
Authors: Jonathan Haidt (Author)
Publisher: Basic Books; Illustrated Edition (December 1, 2006)
Pages: 320 pages
7. Stumbling on Happiness
Stumbling on happiness, not any ordinary book, rather it has data from all the perspectives including psychology, philosophy, behavioral economics, and cognitive neuroscience. This book actually highlights the ability of humans to make predictions and to future predict whether we will like our future or not.
The author further stresses upon some questions that are constantly disturbing our minds. Like, why people tend to be faster in making decisions about their relationships than doing any simplest house chore.
Says that predicting future from your limited imagination can sometimes result in bigger losses. He says that we mistake our tomorrows along with ruining our presents. This is all we know about who we are going to be.
Authors: Daniel Gilbert (Author)
Publisher: Vintage (March 20, 2007)
Pages: 336 pages
8. 52 Lists for Happiness: Weekly Journaling Inspiration for Positivity, Balance, and Joy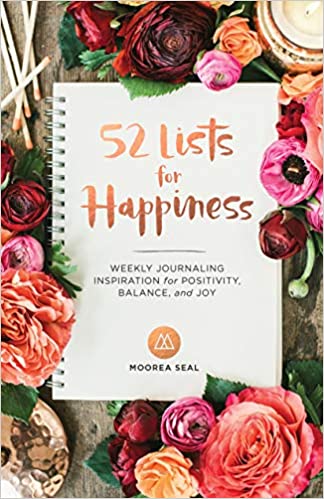 Fifty-two lists for happiness enlists those obligatory steps that are a must to be taken in order to lead a better, happier, and even more prosperous life. This list allows the reader to discover his inside and to adjust himself according to the requirements necessary for maintaining the balance and rhythm of life.
Moorea Seal has written a journal to place these 52 lists that will let you attain happiness and contentment. The author advises us to discover our insides and to spend on ourselves in order to be more productive. This will transform your inside, ultimately transforming your lives and perspectives about life. And finally, true happiness will be your fate.
Authors: Moorea Seal (Author)
Publisher: Sasquatch Books; Illustrated Edition (September 20, 2016)
Pages: 160 pages
9. The Happiness Project One-Sentence Journal: A Five-Year Record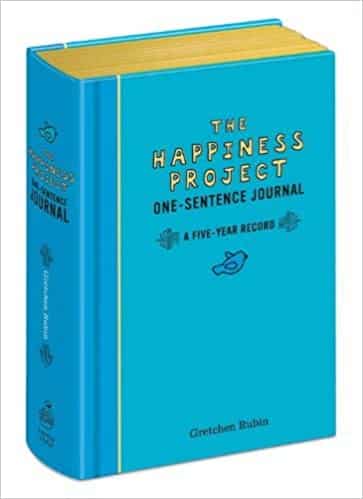 Gretchen Rubin is in love with writing, and she says that writing even a single sentence on a daily basis keeps your heart happy and satisfied all day. Writing even a single word provides contentment and satisfaction to your heart. 
The happiness project One-Sentence Journal: A Five-Year Record says to keep maintaining the tradition of writing one sentence, and then, in the end, you will be surprised to see the results. Happiness is the goal of life, and to achieve this goal; you have to set other goals too.
Publisher: Potter Style (November 1, 2011)
10. Hardwiring Happiness: The New Brain Science of Contentment, Calm, and Confidence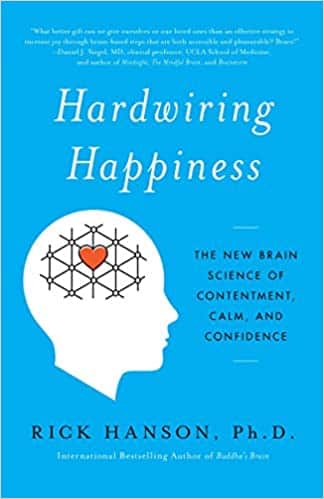 Dr. Hanson's four steps are actually the four important elements that must be added to one's personality in order to add happiness to life. Reading these steps well and then implementing them in your regular routine is what is required for the transition of turning to a happy man from an unhappy man.
It is a natural phenomenon that our brain learns faster from bad experiences than it does from the good ones. The author further says that a brain bound to negativity will only lead to irritation, worry, stress, insecurity, and ultimately sadness.
Hardwiring happiness is exclusively written for those who want to overcome their negative feelings and want to let their inside positivity win. In just a few days, you will be able to discover your brain and find out what's good for you and what's not.
Authors: Rick Hanson (Author)
Publisher: Harmony; Reprint Edition (December 27, 2016)
Pages: 304 pages
11. Resisting Happiness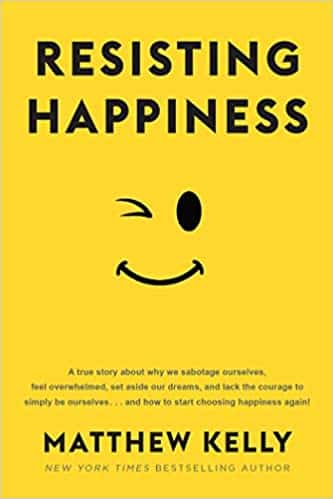 Resisting happiness is based on a real story if keeping ourselves aside and having the inadequate courage to be real, thus refraining from being ourselves. Asking yourself that if we are happy, it is not enough to bring smiles on your faces. Rather the actual transparency of soul and not being resistant to your own happiness is required.
According to the book, resistance is something that stops you from doing something that you already know is good for you. This word is also used for doing certain things which you already know that you must not do.
Mathew Kelly has used a good blend of both practical and profound to let his readers get a clear idea of avoiding feelings that stop you from taking further steps on the road of happiness. For this, he advises to be the best of yourself and to set the purpose and meaning of your life.
Authors: Matthew Kelly (Author)
Publisher: Blue Sparrow; 2nd Edition (December 1, 2016)
Pages: 186 pages
12. The How of Happiness: A New Approach to Getting the Life You Want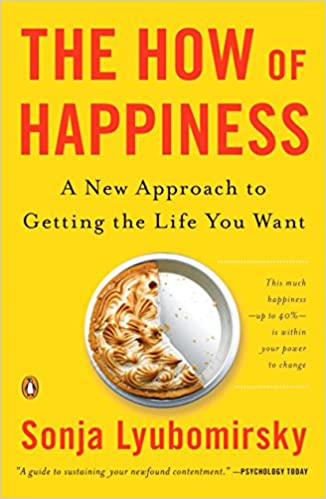 The How of Happiness is something distinct from other books written on happiness. It is different because it lists the techniques that prove fruitful in understanding the elements of happiness according to scientific studies.
The author has also written strategies that need to be followed in order to achieve happiness. Moreover, this book also has exercises to test whether the reader has got the point of the author or not. In addition to this, this book also includes quizzes to understand the individuality of the readers.
Moreover, by reading this book, one gets to know his innate ability to discover happiness and the things one should opt in order to sustain that happiness in his life. This book is also an important piece of writing for those who think that happiness is in their own hands.
Authors: Sonja Lyubomirsky (Author)
Publisher: Penguin Books; Illustrated Edition (December 30, 2008)
Pages: 384 pages
13. Happiness: A Guide to Developing Life's Most Important Skill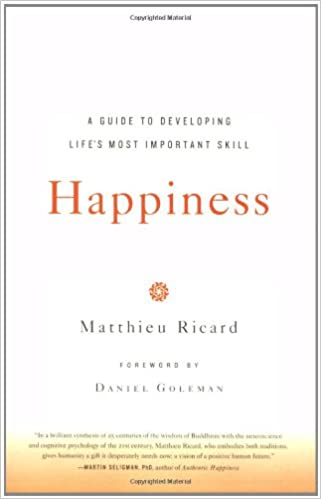 Happiness is the prime skill existing in one's life that must be developed in order to gain real benefits. This is just what the title says. The book has a lot more in it.
Mathieu Ricard has made the best use of his pen to write down the importance of happiness in our lives. He says that happiness is as important to be achieved as any other life goal.
The author has used a blend of fiction, poetry, philosophy, beliefs, research, and personal experience in his piece of writing to add even more meaning and reality to the words. He has further given birth to the discovery of rethinking the realities in this busy world. He has stood out to be an inspiration and attraction for us.
Authors: Matthieu Ricard (Author), Daniel Goleman (Foreword)
Publisher: Little, Brown and Company; Reprint Edition (January 5, 2007)
Pages: 304 pages
14. The Happiness Equation: Want nothing + Do Anything=Have Everything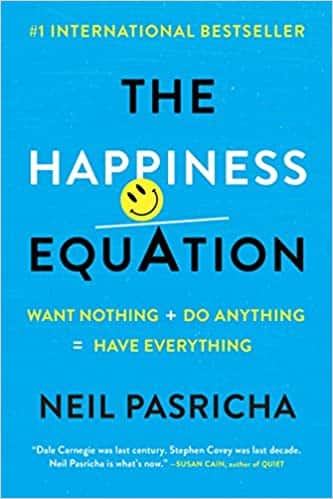 Like many other people, you must also be looking for the right formula, which, when followed, leads you to a happy life. Neil Pasricha is a multi-talented man who has already earned his name in the writing industry. Now he is focused on seeing the routine practical situations that one experiences in his daily life. Rather he is concerned only about the practicalities that are included in an awesome life.
The happiest equation is to desire for nothing but will for doing anything in order to achieve everything. This is the simplest equation that will make your lives smooth and happy. This only sounds simple but for us quite demanding to follow.
The author has marvelously described the differences between wealth and true wealth, success and happiness, internal and external goals, and a lot more things like them.
Authors: Neil Pasricha (Author)
Publisher: G.P. Putnam's Sons; Reprint Edition (December 27, 2016)
Pages: 304 pages
15. How Happiness Happens: Finding Lasting Joy in a World of Comparison, Disappointment, and Unmet Expectations
Wise people have advised staying positive as negativity ruins life. Things like disappointment, dissatisfaction, and discontentment leave you nowhere. Max Lucado has shared a path that leads to the way of success, and he has named this path as the path of happiness.
The author has taken the support of the teachings of Jesus and modern statements to add more strength to his words. As you go through these words, you realize that you need to change the direction of your life as you are going the wrong way.
How happiness happens is based on practical examples that point to the results of happiness like good bonds, healthy relationships, fewer breakups, and much more. Start from today and start walking to the door of happiness.
Authors: Max Lucado (Author)
Publisher: Thomas Nelson (September 17, 2019)
Pages: 208 pages
16. Happiness: A Memoir: The Crooked Little Road to Semi-Ever After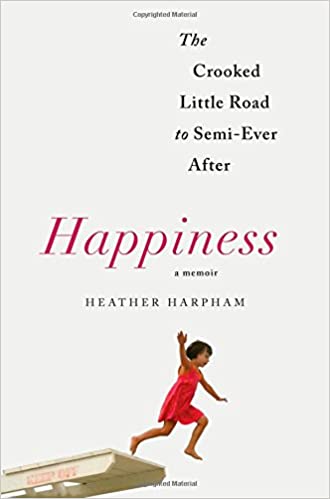 A love story that reaches straight to the bottom of your heart based on the challenges decided by destiny demanding for unpredictable choices. This is how this book goes on.
Heather Harpham says that happiness starts from the point where two hopeless opposite people lose their strengths. The attraction of both the opposites leads to the rise of new beginnings, new hopes, new desires, and opens the gates for happiness to let in.
Happiness – A memoir is a complete book that has all those elements that are required to keep the reader engaged and bonded to read the book. The humor dripping through this book transfers a message to the world that happiness has many directions.
Authors: Heather Harpham (Author)
Publisher: Henry Holt and Co. (August 1, 2017)
Pages: 320 pages
17. The Algebra of Happiness: Notes on the Pursuit of Success, Love, and Meaning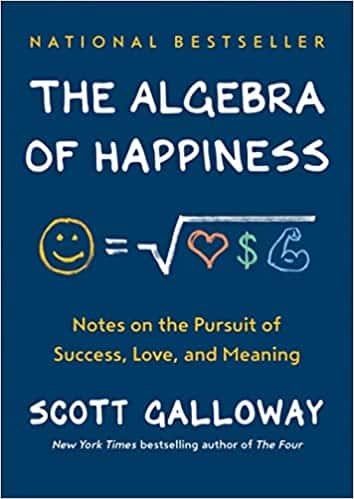 Scott Galloway has made use of his professorial virtues and has threaded his thoughts in his book to let people know how happiness is gained. He is a famous celebrity on social media also because he has earned both name and fame by teaching people the right way of living the right life.
The author answers several questions asked by random followers on a daily routine. He ends the confusion resting in the questions like, is it possible to manage both work and life simultaneously? What is the accurate formula to be followed in order to live the correct life? And many others.
The Algebra of Happiness is actually a story that tells about the hard-earned wisdom regarding challenges of life along with mentioning personal life stories too.
Authors: Scott Galloway (Author)
Publisher: Portfolio; Illustrated Edition (May 14, 2019)
Pages: 256 pages
18. The Happiness Track: How to Apply the Science of Happiness to Accelerate Your Success
The happiness track is all about the latest studies regarding compassion, creativity, willpower, mindfulness, and positive stress. This book is actually an answer to the question that asks for the difference between happiness and success.
Emma Seppala has written the heart touching words to let the reader understand the real difference between success and happiness. And also to find out whether success leads to happiness or happiness gives you success.
The author has taken into account the daily practical strategies that will enable you to enjoy a happy life empty of despair, disappointments, stress, and all such negativity.
Authors: Emma Seppala (Author)
Publisher: HarperOne; Reprint Edition (January 31, 2017)
Pages: 224 pages
19. Happiness: Essential Mindfulness Practices
Happiness: Essential mindful practices gives us a message that mindfulness lets us enjoy our present without thinking of our past or future. And remember this is very important if you want to feel the feeling of true happiness. Because worrying about what's gone or what hasn't come yet is a total of no use.
Thich Nhat Hanh says that mindfulness is the only way to attain peace, both inner peace, and outer peace. True happiness is a rare emotion that not everyone can cherish. Happiness is the end of your sorrows and always leads to good beginnings.
Authors: Thich Nhat Hanh (Author)
Publisher: Parallax Press (July 20, 2005)
Pages: 120 pages
20. Positive Psychology: The Science of Happiness and Flourishing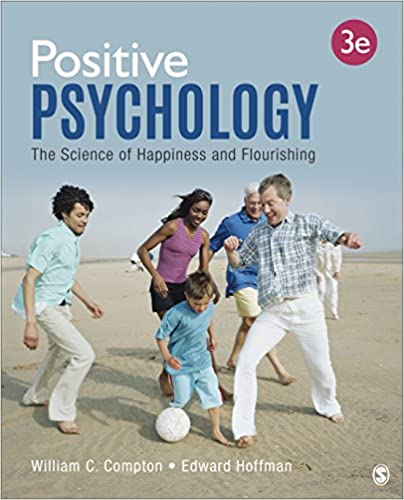 Positive psychology: The science of happiness and flourishing is a marvelous piece of writing that is filled with engaging and modern content talking all about psychology. In addition to this, this book also tells about the application of positive psychology to health and stressors, ranging from clinical, motivational, behavioral, personality, and social psychology. 
William C. Compton further discusses positive sentimental states, positive values, positive foundations, and predicting positive psychology. Furthermore, he discusses romantic love, mindfulness and money, and subjective well-being.
Authors: William C. Compton (Author), Edward L. Hoffman (Author)
Publisher: SAGE Publications, Inc; 3rd Edition (February 18, 2019)
Pages: 528 pages
Choosing the Best Happiness Books
This article is all about the importance of happiness and the ways of achieving it. But you must keep one thing in mind that there is a lot of difference between happiness and true happiness, and honestly, you have to strive for true happiness, not only happiness. The above-mentioned information regarding 20 books about happiness is enough for you to look for your happiness book that has touched your heart.
These authors have gathered information from all over the world, including different experiences, modern researches, and a lot of practical examples. So you must take these words seriously and follow their lines to make your life happy and ultimately successful. Always remember that there must be a purpose and a goal of your life and prefer keeping happiness this goal. Then give your best to achieve this goal and to live your life in real terms.