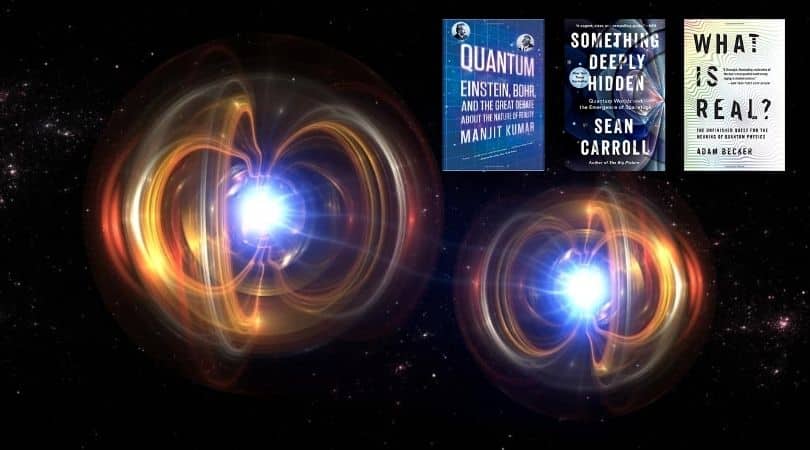 DISCLOSURE: This post may contain affiliate links, meaning when you click the links and make a purchase, I receive a commission. As an Amazon Associate I earn from qualifying purchases.
Learning more about quantum physics could be an excellent way to gain a better understanding of our world. Quantum theory can describe energy and matter at the subatomic atomic levels that goes far beyond the classical level of physics. If you have always been interested in studying quantum physics and you would like to expand your overall knowledge of this complex subject matter, it could be helpful to get access to a good learning guide to aid you in your self-study. We have gone through some of the best new quantum physics books which are available to decide on the best quantum physics guides that you could be using to build up your knowledge on the subject.
What are the Best Quantum Physics Books to read?
1

2

3

Book
Quantum: Einstein, Bohr, and the Great Debate about the Nature of Reality
Something Deeply Hidden: Quantum Worlds and the Emergence of Spacetime
What Is Real?: The Unfinished Quest for the Meaning of Quantum Physics
1

Book
Quantum: Einstein, Bohr, and the Great Debate about the Nature of Reality
2

Book
Something Deeply Hidden: Quantum Worlds and the Emergence of Spacetime
3

Book
What Is Real?: The Unfinished Quest for the Meaning of Quantum Physics
Here are some of the best quantum physics books you could be reading today:
Best Quantum Physics Books: Our Top 20 Picks
Here are some of the best quantum physics books that you can consider to expand your knowledge on the subject:
1. Quantum Einstein debate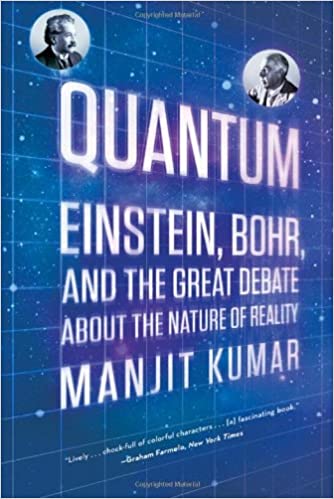 Quantum Einstein debate is an exploration of quantum theory from a historical perspective. Manjit Kumar dives deep into the mysterious nature of quantum theory and its formation. In a complete guide to the history of science, this debate looks into some of the arguments surrounding fundamental debates within quantum physics and science itself.
With inner conflicts and debates between Bohr and Einstein as well as and in-depth dive to the soul of science at its core and the ideas that guide its progress, this is a different guide that you will see based on the formation of science and its principles.
Authors: Manjit Kumar (Author)
Publisher: W. W. Norton & Company; Illustrated Edition (May 9, 2011)
Pages: 448 pages
2. Something deeply hidden in the emergence of space-time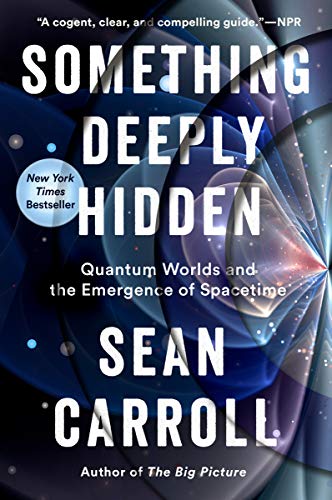 Sean Carroll is a theoretical physicist and the writer of this celebrated novel on 20th century physics. Something Deeply Hidden uses pieces of the quantum puzzle and relates them to issues within our modern world. With details on Einstein's theory of relativity as well as the way that physics has shaped itself since the year 1927, there are a number of revisions to theories that Carol calls a physics crisis.
This is a book that could have you thinking in a completely unique way and changing the nature of how you view the world as well as conflicts within our world. It's tough to reorganize ourselves in the state of the universe but choosing a new understanding can often mean understanding what we are made of and how we can build a future in time and space with our own understanding.
Authors: Sean Carroll (Author)
Publisher: Dutton (September 10, 2019)
Pages: 362 pages
3. What Real Unfinished meaning in Quantum Physics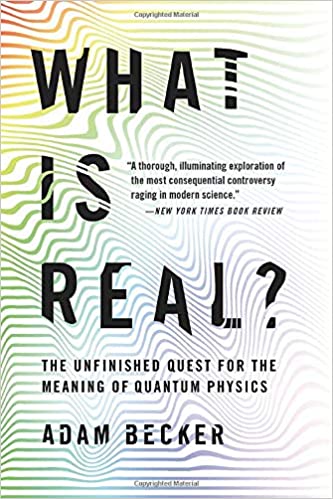 The unfinished meeting in quantum physics is a book that explores a quest for the real meaning of quantum physics. The book, by Adam Becker completed detailed examination of humanity's most significant scientific achievements as well as the way that courageous scientists were able to stand up for their ideas and share what their view of the world and science was about.
The detailed research here goes through the quest for meaning in quantum physics throughout our world. The questioning of the series of Hugh Everett, David Bohm and John Bell are all explored in this novel. The accessible account of these theories is explored throughout the novel and it is written in an easy method to understand.
Authors: Adam Becker (Author)
Publisher: Basic Books; Reprint Edition (September 3, 2019)
Pages: 384 pages
4. Quantum physics: A beginner's guide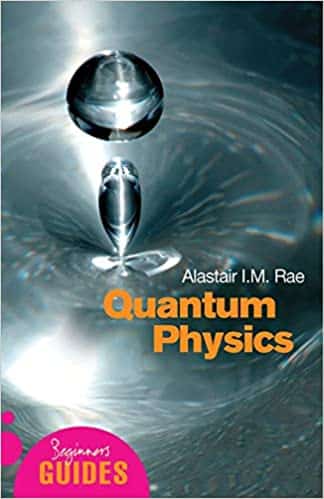 A beginners guide to quantum physics by Alastair I.M. Rae is a book that is designed to help you navigate quantum physics in accessible language. Drawing on a wide range of professional expertise, Rae can cut through the technical jargon associated with quantum physics to explain many of these theories in plain English.
As a beginners guide, the quantum physics theory that is explored cuts through the extreme technicality of quantum physics and works to apply solutions in the way that it affects our daily lives. If you are seeking a book that can help you build a base knowledge of quantum physics and an understanding of how it affects our world, this is a novel that can help you get started.
Authors: Alistair I. M. Rae (Author)
Publisher: Oneworld Publications (July 1, 2005)
Pages: 240 pages
5. Quantum Physics for dummies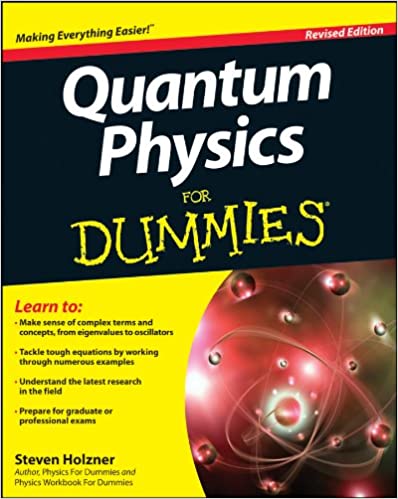 Quantum physics for dummies is a revised edition written by Steven Holzner. The book makes quantum physics much more understandable and accessible than ever before. Understanding were quantum physics has come from as well as an in-depth understanding of hydrogen atoms and our world at a subatomic level, this is a revised edition of the original dummies book that can help someone turn from an absolute beginner into somewhat of an expert in quantum physics.
The book can take you up to a graduate or professional level examination and it has a wide range of theories covered as well as unique applications for these theories. If you've ever wanted to learn more about the foundations of quantum physics, the Schrödinger equation, vector notation, scattering theory and more, you can gain in-depth understanding using this guide.
Authors: Steven Holzner (Author)
Publisher: For Dummies; Revised Edition (January 29, 2013)
Pages: 336 pages
6. Beyond weird everything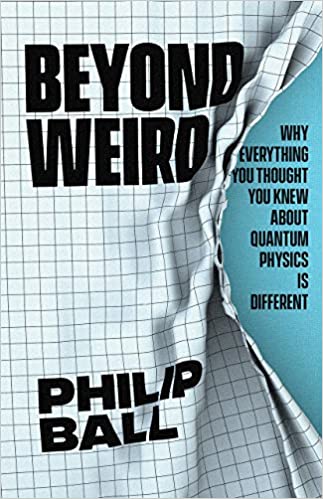 Beyond weird everything is a book by Philip Ball that starts with the theories of Niels Bohr and continues to delve into shocking relations within our world. Ball speaks of the unseen forces that are found throughout our world and the nature of the quantum underside of our reality.
The functions that may not seem obvious in our day-to-day lives are actually the foundations that build our world and the way that they are explained here unfolds like a good thriller novel. As a complete study of the quantum landscape, the book covers a series of concepts about particles and waves and the basics of quantum physics in our world.
Authors: Philip Ball (Author)
Publisher: University of Chicago Press; First Edition (October 18, 2018)
Pages: 384 pages
7. My first book Quantum Physics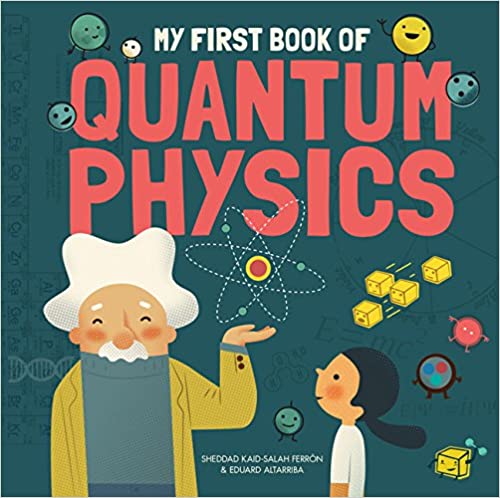 Designed for a beginners reading level and for children, this hardcover book by Kiad-sala Ferron Sheddad and illustrator Eduard Altarriba helps children understand the basics of quantum physics. With extremely easy to digest text, his book details how everything is related and composed of minute particles. The book goes through a number of objects in our world including the air, water, food, trees, buildings and more.
Quantum physics continues to push the boundaries of what we know and science and the structure of the universe and this book explores the wonders of this discipline. Some of the initial topics that are covered include mass, photons, atoms, molecules, wave particle duality, matter and antimatter and more. Although it may sound intimidating, this is a book that is perfect for classroom study or for any young mind.
Authors: Kaid-Sala Ferrón Sheddad (Author), Eduard Altarriba (Illustrator)
Publisher: Button Books; Illustrated Edition (August 1, 2018)
Pages: 48 pages
8. Physics God Consciousness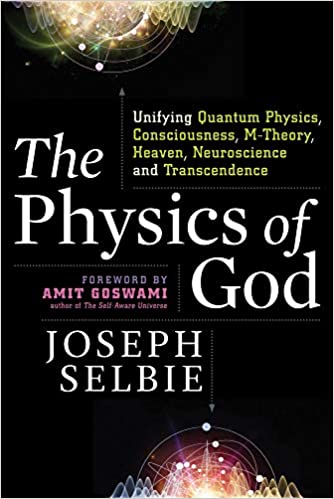 Understanding the physics of our deities and the material ballots that we place on a variety of events in our world can be difficult. The explanation of various phenomena and miracles is explored in this book. With ideas on the concept of neuroscience, transcendence, heaven, consciousness and more, this book works to pull back many of the allusions that are simply explained by magic or religion.
The book is produced by author Joseph Selbie and it delivers a unique interpretation on matter as a whole and the miracle making power of matter in our lives today. Any intelligent observer can begin to see the effects of spiritual phenomenon and apply some of these theories towards the nature of their creation.
Authors: Joseph Selbie (Author), Amit Goswami PhD (Foreword)
Publisher: Weiser; First Edition (September 18, 2017)
Pages: 208 pages
9. Quantum physics what everyone needs to know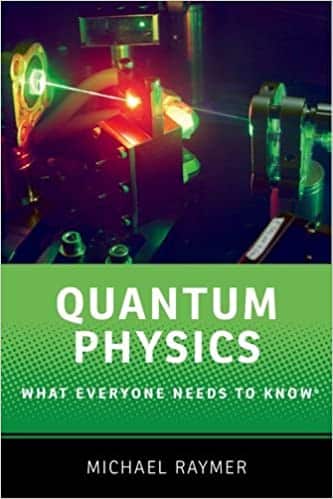 This introductory guide to quantum physics details white you need to know to understand the basics of particles. With guides on how to understand electrons, protons and neurons author Michael G. Raymer understand how we can predict the individual behaviour of an atom and find comparable results in the real world. With the principles of classic physics as well as new mechanics that can explain the phenomenon on a more global scale, this is an intellectual guide that can explain some of the most important moments throughout the history of physics.
With detailed modern examples such as how computers work, how quantum physics has evolved and how various principles of physics apply to our modern world, we are able to interpret the changes that can come as a result of wide reaching physics problems.
Authors: Michael G. Raymer (Author)
Publisher: Oxford University Press; 1st Edition (July 5, 2017)
Pages: 334 pages
10. Quantum Physics Idiot guides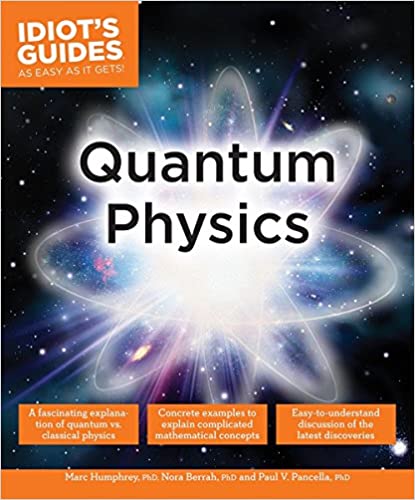 Quantum physics the idiots guide is written by Marc Humphery and Norra Berrah as well as Paul V Pancella. These three experts explore the concepts of quantum physics and how they relate to our world. In this idiot's guide, actually complex topics are broken down into easy-to-understand solutions for students and science enthusiasts. Rather than focusing in on the math and equations behind quantum physics, this is a book that explains more on the concepts and implications of quantum physics in our own world. Including many of the paradoxes as well as the fascinating subjects associated with quantum physics this is an excellent starting point to help drive inspiration into the subject.
Topics covered include the Heisenberg uncertainty principle, quantum and classical physics as well as the double slit experiment. There are a number of excellent jumping off points that can be used here and the unintimidating and mathless approach can make sure that anyone can pick this up and learn some of the basics surrounding quantum physics.
Authors: Marc Humphrey (Author), Paul V. Pancella (Author), Nora Berrah (Author)
Publisher: Alpha (January 6, 2015)
Pages: 352 pages
11. Quantum Physics hippies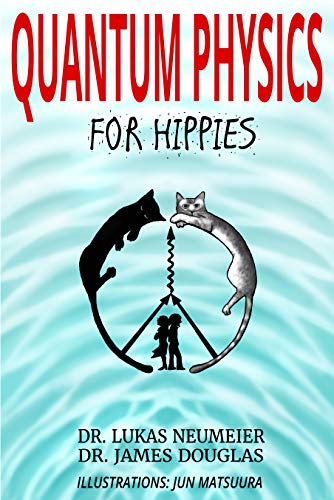 Quantum physics for hippies is written by Dr. Lucas Neumeier, Dr. James Douglas and Jun Matsuura. The book is designed to be an entertaining and insightful look at quantum physics from a more fun and uncomplicated respective. If you're interested in learning more about quantum physics but you feel bombarded by the equations of the math, this is a book that is written to be easy-to-read and entertaining while also providing you with the knowledge you need to dissect quantum physics theory.
Written by esoteric writers, this is a book that can quickly change or perspective while also giving you a thrilling reading experience. Rather than getting bombarded by a series of complicated explanations, you can have many of the details of the concepts without having a constant bombardment with technical knowledge and mathematics. The illustrations in this book as well as the fun and creative writing will have you reading page after page. The series will also help you to change the way that you look at the world.
Authors: Dr. Lukas Neumeier (Author), Dr. James Douglas (Author), Jun Matsuura (Illustrator)
Publisher: Independently published (April 4, 2019)
Pages: 175 pages
12. Physics molecules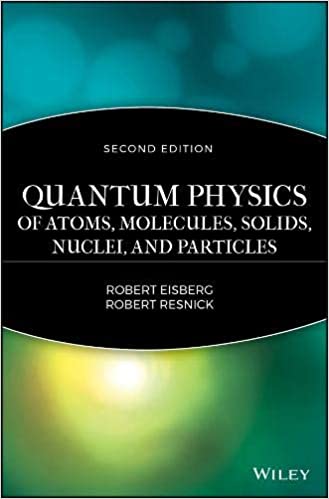 The quantum physics of Atoms, molecules, particles, nuclei and more includes a junior and senior level textbook understanding from Robert Eisberg and Robert Resnick. The application of theory and the emphasis on the Mossbauer effect are highlighted here.
With new material on particle physics in this latest revision, the book details a series of theories that can assist with the understanding of various states within our world. With a detailed description of various molecules within our world, the quantum physics theories in this can explain almost every element of our physical world.
Authors: Robert Eisberg (Author), Robert Resnick (Author)
Publisher: John Wiley & Sons; 2nd Edition (January 1, 1985)
Pages: 864 pages
13. Possibility principle Quantum physics improvements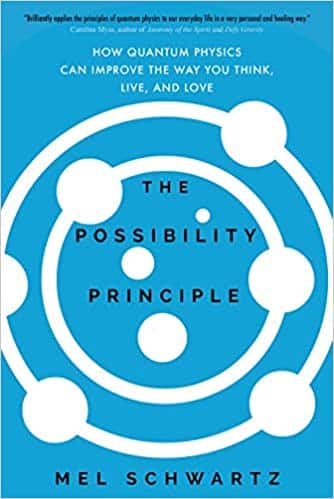 The possibility principle is a book that studies quantum physics and how it can improve your quality-of-life. Written by Mel Schwartz, the book shares how our goals can be attained by focusing into a proper life vision. This is the relation to putting ourselves in a position to positively impact the future. This is an extremely groundbreaking work in physics because it shows our role and the way that our thoughts can relate to our future.
Schwartz integrates a series of new quantum worldviews into our everyday lives. It shows that we can transcend our own limitations and find infinite possibilities and positive probabilities using the possibility principal. Whether you are interested in studying the positivity of quantum physics or you would like to learn more about how it could boost your quality-of-life, this could be an excellent book for you.
Authors: Mel Schwartz (Author)
Publisher: Sounds True (August 31, 2017)
Pages: 200 pages
14. Quantum physics overview conceptual foundations
Quantum physics: an overview of a wheeled world and conceptual foundations in physics is written by Marco Masi. It's the first book in a two-volume book series that includes some of the basics of quantum physics and its conceptual foundations. The book comes with a supplement of online learning as well as a series of video lectures that will take you through the various chapters.
The basic idea of this book is to help budding minds to separate science fact from fiction in pseudoscience. By utilizing physics it possible to interpret any puzzle and to work with simplifying paradoxes in our own world. By using the knowledge of various scientists and philosophers is possible to piece together information and create an arch of knowledge within the discipline of quantum physics. From basic concepts to in-depth technical knowledge, this book can cover it all and serve as a fine primer for future knowledge in quantum physics study.
Authors: Marco Masi (Author)
Publisher: Independently published (March 19, 2019)
Pages: 344 pages
15. Quantum physics energy healing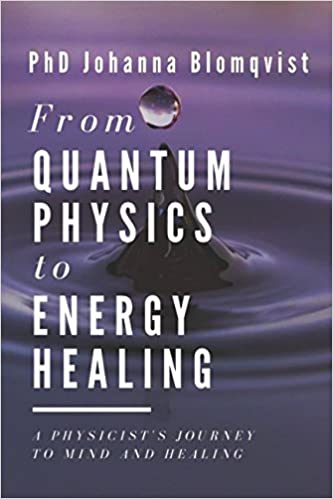 Quantum physics for energy healing is a book on the journey of healing and the mind. Written by Dr. Johanna Blomqvist, this book delivers an informative introduction to journey and expiration of the mind with a basis of quantum physics for ceiling. Alternative healing practices in quantum physics are two items that are not commonly used in the same breath but with this concept of energy transmission it's possible to find new ways to build improvements in one's lifestyle according to energy healing and atoms.
Detailing her own experience and the scientific models that she drew inspiration from, Energy healing uses modern scientific approaches to explain the vibrating energies at a subatomic level. The book also delves into our consciousness and how we can work at improving positive energy within our consciousness. Written by an energy healer, Reiki master and physicist, this is a completely unique guide to healing.
Authors: PhD Johanna Blomqvist (Author), Tuula Yrjö-Koskinen (Translator)
Publisher: Mindstream Publishing (May 22, 2018)
Pages: 292 pages
16. Physics Minutes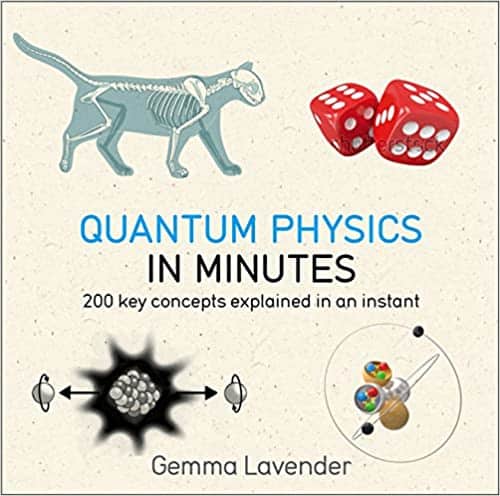 Quantum physics remains one of the most baffling subjects to manage in science today. As a highly intimidating subject it can explain the nature of teleportation, antimatter, parallel universes and today's digital technology.
Understanding these topics can give you a new way to look at the world and an understanding of some incredibly complex topics. Gemma Lavender is an author that has produced a book on 200 key concepts within quantum physics that you can pick up in just minutes. Explain these concepts via illustrations and step-by-step guides can give you a window into the nature of our reality. The 200 simple diagrams serve is an excellent learning guide to help you dive into the basics of physics.
Authors: Gemma Lavender (Author)
Publisher: Quercus (June 6, 2017)
Pages: 416 pages
17. Quantum Physics a fundamental approach
This fundamental approach to modern physics is written by John S. Townsend. It is a full textbook worth of knowledge including an innovative introduction to quantum mechanics. The illustrations in the textbook as well as the easy-to-understand text can help you to build a knowledge of wave mechanics and quantum mechanics for applications in nuclear, solid-state and particle physics.
Most of the topics in this focus on band structure solids as well as particle physics. Students interested in studying quantum mechanics and building a coherent picture of how the world works will find direct interest in this textbook. It's also been adopted as one of the main instructors manuals for many professors teaching this subject matter.
Authors: John Townsend (Author), Laurel Muller (Illustrator)
Publisher: University Science Books; First Edition (August 7, 2009)
Pages: 510 pages
18. Philosophy physics Princeton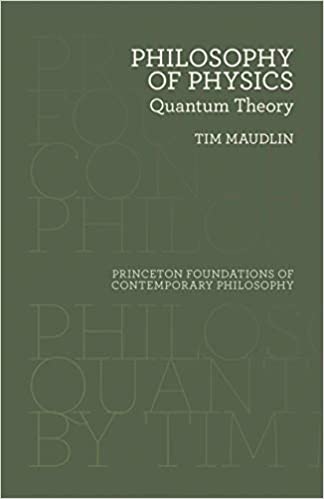 Tim Maudlin is one of the leading philosophers and physics experts worldwide. This sophisticated and original introduction between quantum mechanics and philosophy delivers the most refined and clear account of the subject lines between the two. The book is invaluable for students that are studying both philosophy and physics at the same time. As quantum mechanics is an important theory within physics, it continues produce accurate results in a variety of scientific theory.
The agreement between these theories and the physical reality of our world can make sure that there can be a predictive recipe for some of the most complex theories that we face every day. This book challenges the new worlds theory of Everett and continues to deliver a sophisticated marriage between philosophy and modern physics.
Authors: Tim Maudlin (Author)
Publisher: Princeton University Press (March 19, 2019)
Pages: 256 pages
19. Quantum physics made easy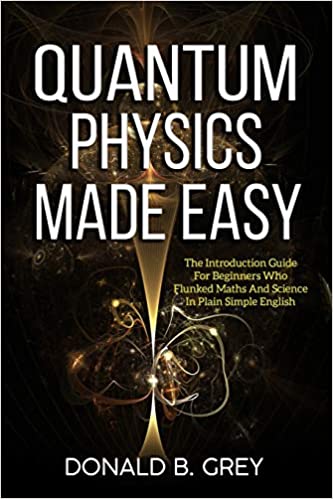 Quantum physics made easy is written by Donald B. Grey. The goal of this book is to present quantum physics in a format that is easy for those that find math and science intimidating. Written in a fun and charismatic way, this book poses many common questions about our world and then explains them with quantum physics. You can learn more about the elusive Schrödinger's cat, if string theories are truly made out of string and the nature of black holes.
The book delivers a basis of knowledge that can help people solve everyday mysteries. If you are the type of person that finds science extremely intimidating or that gave up on science in high school, this is a great way to dive back in and discover new meaning in the world through quantum physics.
Authors: Donald B. Grey (Author)
Publisher: Independently published (April 22, 2019)
Pages: 56 pages
20. Understanding quantum physics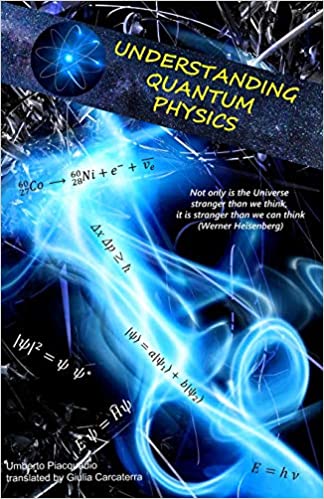 Understanding Quantum Physics is a book from Umberto Piacquadio and Giulia Carcaterra, his translator. Explaining the various principles of quantum physics and how it relates to our physical world means truly understanding all bodies at work. By delving deep into what makes up electromagnetic phenomenon, the motion of celestial bodies and more we can determine how our world is moving into the comic level.
Starting with the beginning of in-depth studies completed by Bohr, Planck and Einstein, the book continues on with a series of theories on classical foundation with Heisenberg and Schrödinger. Starting with the causality of theory and leading to an updated understanding including all equations, this is a book that can prepare you for future in-depth University study. The understanding of quantum physics from this book could serve as an early primer or textbook or give you the perfect base of knowledge if you are approaching a coarse level study. As an independently published book, this is gaining headway in the community and it has become a guide that is perfect for gaining an understanding of the world of quantum physics.
Authors: Umberto Piacquadio (Author), Giulia Carcaterra (Translator)
Publisher: Independently published (June 11, 2019)
Pages: 225 pages
Choosing the Best Quantum Physics Books
If you are interested in studying quantum physics at a beginner level, advance level or even as a young reader, there are books that we have detailed in this article which can help you to gain a based knowledge in  quantum physics today. With a wide range of books available is important to find something that's going to be at your level and designed for your interest. With books available that shy away from mathematics and include reading at a beginner level to an experienced level of quantum physics knowledge, we have made sure that you can take on learning within any comfort zone you may have. Be sure to pick up one of these books if you would like to understand some of the basics of quantum physics from the perspective of many different authors.