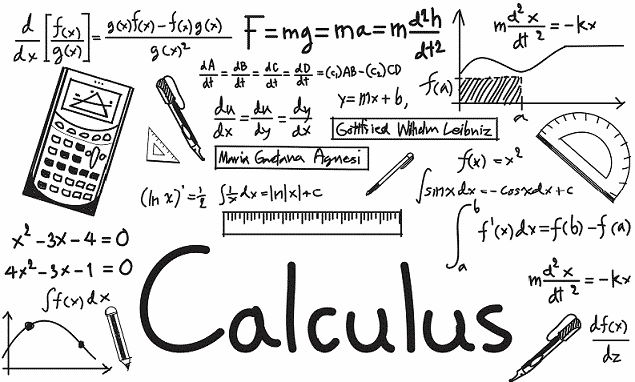 DISCLOSURE: This post may contain affiliate links, meaning when you click the links and make a purchase, I receive a commission. As an Amazon Associate I earn from qualifying purchases.
Calculus is a branch of mathematics that focuses on studying rates of change. It was basically invented to study motion and can be really frustrating. Most students dread being in a calculus class and certainly wouldn't try to study it by themselves.
What are the Best Calculus Textbooks for Self Study to read?
1

2

3

Book
Calculus: An Intuitive and Physical Approach (Second Edition) (Dover Books on Mathematics)
The Humongous Book of Calculus Problems (Humongous Books)
1

2

Book
Calculus: An Intuitive and Physical Approach (Second Edition) (Dover Books on Mathematics)
3

Book
The Humongous Book of Calculus Problems (Humongous Books)
The invention of calculus brought a new dimension to mathematics. Originally, mathematics was only able to calculate objects that were completely static so there was no answer to a lot of questions.
Calculus solved this problem by helping to calculate objects that were in constant motion. It is important that you are able to study calculus yourself since it is used across several fields.
Best Textbooks on Calculus: Our Top 7 Picks
In this post, we suggest seven of the best calculus textbooks you can use for self-study:
1. Calculus (10th Edition)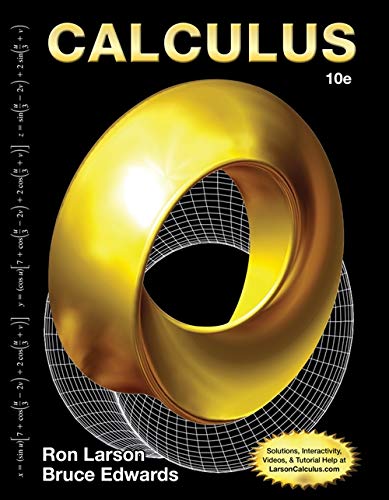 This book
comes highly recommended by both students and lecturers alike. Written by Ron Larson and Bruce Edwards, the book presents calculus in a really innovative manner. The writers definitely understand the need for simplicity in passing on the basics and use it effectively in the text.
Calculus 10th Edition presents a solid teaching method that would fit into just about any environment. This adaptability is one of the reasons why it comes highly recommended. The book integrates media, print, and technology to efficiently aid learning and teaching.
Using the book with the website makes it a more interesting experience as a lot of comprehensive proofs are provided online to help the reader understand. Odd questions and their answers are also presented in very clear terms.
Readers applaud the authors and, even though the book is a bit costly, they say it is worth the price. It is not just for students of mathematics – students of physics, engineering, chemistry, etc. can make use of the textbook too.
The methods used make it easy for self-study, which is why it made its way onto this list.
Author: Ron Larson and Bruce Edwards
Publisher: Cengage Learning; 10 Edition (January 1, 2013)
Pages: 1280 pages
Edition: Tenth Edition
2. Calculus: An Intuitive and Physical Approach (Second Edition)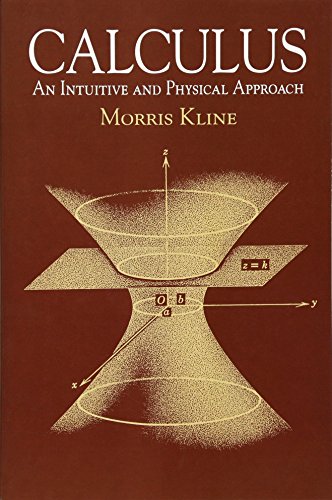 Morris Kline uses a more application-oriented approach in this book to talk about calculus.
Calculus: An Intuitive and Physical Approach
introduces the subject in a manner that brings it really close to science to help the student understand the complex concepts of calculus easily. It explores the different aspects of calculus using clear proofs that are easy to understand.
Some of the topics treated include:
In-depth explorations of the derivative
Differentiation and integration of the powers of x
Theorems on differentiation and antidifferentiation
Definition of the chain rule
Examinations of trigonometric functions
Logarithmic and exponential functions
Techniques of integration
Polar coordinates
The author uses easy to understand explanations to help students and teachers alike, alongside lots of drills and illustrative examples.
With consistent use of this book, you should get a grasp of calculus without help as it presents the concepts of calculus very simply. Lastly, there is a solution guide for the reader which is available on request.
Author: Morris Kline
Publisher: Dover Publications; 2 Edition (June 19, 1998)
Pages: 960 pages
Edition: Second Edition
3. The Humongous Book of Calculus Problems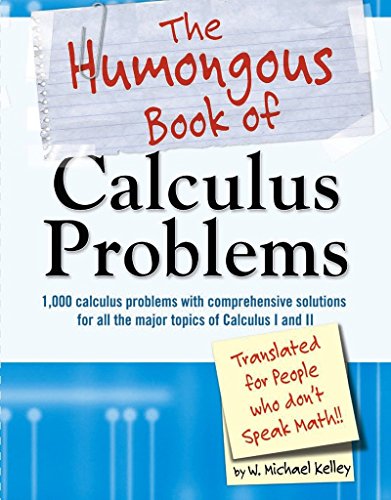 As the name suggests, The Humongous Book of Calculus Problems is written based on the philosophy that solving problems is the best way to grasp calculus.
Hearing this philosophy might be scary to the student before flipping open the book cover. However, the author, W. Michael Kelley, has made it really easy to understand calculus by providing lots of notes.
The book provides:
A thousand calculus problems along with comprehensive solutions.
Explanatory notes to help the reader understand each question properly.
Detailed answers.
Pointers to other calculus problems, revealing the specific skills required for each one.
This text includes problems relating to limits, derivatives, continuity, tangent lines, integrals, area, velocity, volume, acceleration, infinite series, etc.
One of the main reasons why it is recommended for self-study by readers is how the solutions are presented.
This book should be a great companion if you love to go through the solutions to problems but if you want to solve lots of problems without any help, you might want to go for something more advanced.
Author: W. Michael Kelley
Publisher: Alpha; Later Printing Edition (January 2, 2007)
Pages: 576 pages
Series: Humongous Books
4. Calculus (by James Stewart)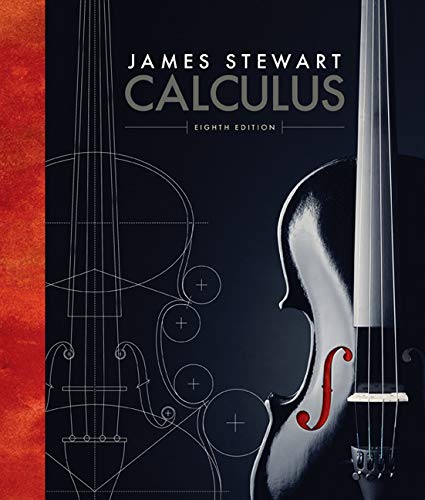 Calculus by James Stewart
has a reputation as one of the bestselling calculus textbooks on the planet due to the way he presents the fundamentals of calculus.
Studying calculus on its own requires a lot of motivation because it can be really frustrating. With this in mind, you don't want a text that is equally frustrating. This textbook presents its ideas in a clear and accurate manner, along with the notes are several real-world examples relevant to each topic discussed.
As you study this text, you are bound to start to appreciate the intrinsic beauty of calculus and to experience the utility of the subject in the development of technical competence. This is practically required if you are going to be able to apply calculus to real-life situations.
By the time you are done, it is expected that you truly have a firm grasp on the subject through examples and their accompanying learning aids. Readers have described the text as rich, concise, deep, and clear.
Author: James Stewart
Publisher: Cengage; 8 Edition (May 19, 2015)
Pages: 1392 pages
Edition: 8th Edition
5. Barron's AP Calculus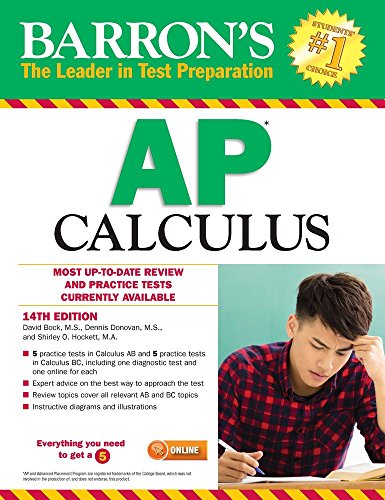 Barron's AP Calculus
is basically a comprehensive AP test preparation guide. By the time a student is done studying the different modules, they should be ready for all their exams.
The book comes with a CD-ROM which collates practice exams, past questions and their solutions, and more. There is also a bonus online practice test with all the questions answered and properly explained.
Barron's AP Calculus is considered to be really efficient support when preparing for exams. The only challenge most readers complain about is the hefty size of the book. The plus side is that you get to solve more difficult questions than those that are likely to be set in real exams.
Author: David Bock, Dennis Donovan
Publisher: Barrons Educational Series; 14 Edition (February 1, 2017)
Pages: 656 pages
Edition: Fourteenth Edition
6. Calculus: 1,001 Practice Problems For Dummies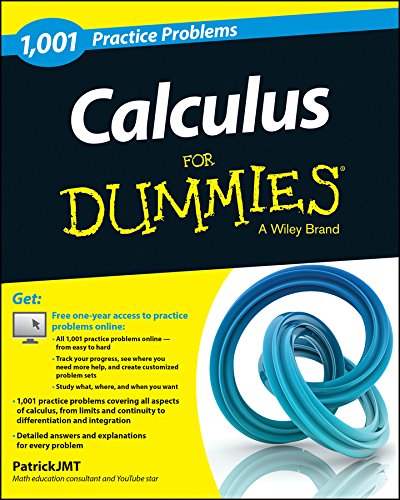 Calculus: 1,001 Practice Problems For Dummies
provides students with guidance and instruction required to study calculus efficiently with 1,001 practice problems covering all the major topics within calculus.
To help the student with self-evaluation, an online component is added, presenting a variety of calculus problems in a multiple-choice format. The book:
Provides a chance to boost the student's confidence through practice questions that help in reinforcing problem-solving skills.
Improves the student's understanding of the subject.
Provides detailed answers to problems.
This book will help you grasp the basics of calculus and even other aspects of mathematics. Using the online platform gives you a chance at enjoying several benefits which will be instrumental in achieving your calculus goals.
Author: Patrick Jones
Publisher: For Dummies; 1 Edition (August 4, 2014)
Pages: 624 pages
Edition: First Edition
7. Calculus: Early Transcendentals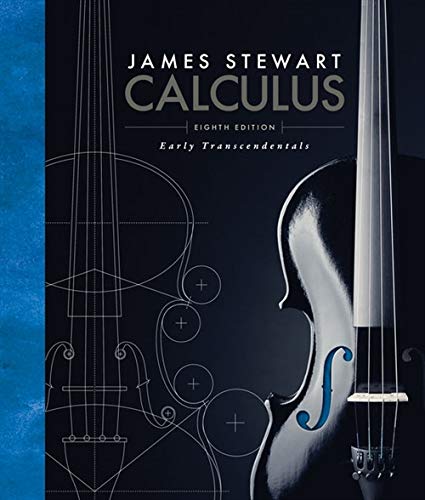 Calculus: Early Transcendentals
is another book by James Stewart that presents calculus in clear language, empowering the reader to understand the subject using easy to understand examples. These examples present calculus as used in real-life situations in the most accurate manner.
The reader is expected to have developed technical competence as a result of using this book and an appreciation of the application of calculus to real-life.
The book comes with learning aids aimed at building mathematical confidence as well as achieving set calculus goals. Readers have commended the author's approach and labeled the book as one of the best on calculus.
Calculus: Early Transcendentals presents you with more in-depth information compared to that which is taught in class. To enjoy the added benefits, you should open a Cengage account online.
Author: James Stewart
Publisher: Brooks Cole; 8 Edition (February 4, 2015)
Pages: 1368 pages
Edition: Eighth Edition
Conclusion
Calculus should be lots of fun with any of these books, which are all easy to understand, making them perfect for both teaching and self-study.
Related